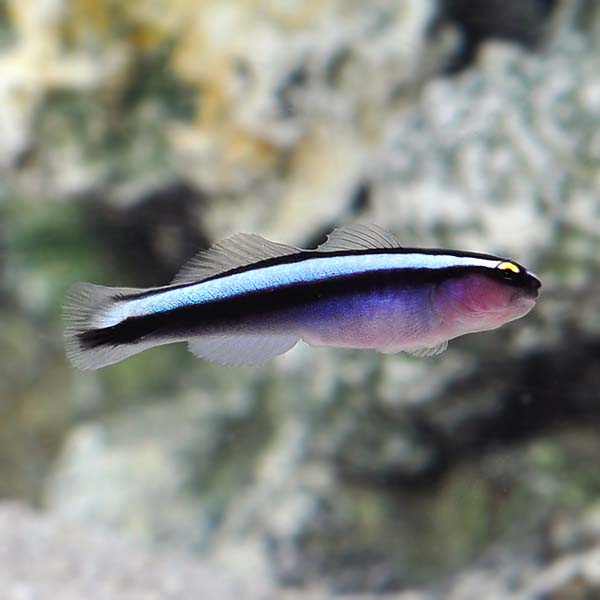 Please Note: Due to variations within species, your item may not look identical to the image provided. Approximate size range may also vary between individual specimen.
Overview
The ORA® Captive-Bred Hybrid Cleaner Goby is an exquisite beauty and a testament to the achievements of modern captive breeding programs. As an offspring of a female Neon Goby (Elacatinus oceanops) and a male Yellow Line Goby (Elacatinus figaro), the ORA® Captive-Bred Hybrid Cleaner Goby is a truly unique addition to any reef aquarium and is sure to be a showcase specimen in the nano-aquarium setup!
The ORA® Captive-Bred Hybrid Cleaner Goby is simply breathtaking with its gorgeous coloration. Its ventral half features beautiful gradients of bright plum and deep grape coloration that's brilliantly accented by an iridescent, multicolored stripe. Like an electric rainbow, this stripe begins with a golden yellow coloration and beautifully transitions to jade green, turquoise, and terminates in slight shades of blue. Like most fish, the coloration of the ORA® Captive-Bred Hybrid Cleaner Goby is influenced by lighting, diet, as well as environmental conditions.
The ORA® Captive-Bred Hybrid Cleaner Goby should be housed in a well-established 10 gallon or larger aquarium. The Hybrid Cleaner Goby is peaceful; however, can become territorial and will demonstrate aggression towards its own kind unless they are a mated pair. The ORA Captive-Bred Hybrid Cleaner Goby is very robust and grows faster and larger than their parent stock.
In the wild, a portion of a Cleaner Goby's natural diet consists of parasites picked off larger reef fish. The ORA Captive-Bred Cleaner Goby should be fed a varied diet consisting of foods specifically designed for carnivores. If kept in a reef aquarium, the ORA Captive-Bred Sharknose Goby should be fed once per day.
Approximate Purchase Size: 1" to 2".
Supplies You May Be Interested In
Customer Testimonials
No testimonials have been submitted for this product.