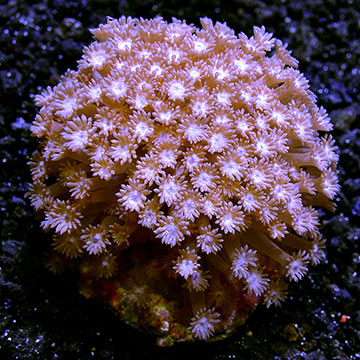 Please Note: Due to variations within species, your item may not look identical to the image provided. Approximate size range may also vary between individual specimen.
Overview
The aquacultured ORA® Marshall Island Goniopora Coral is one of the hardiest varieties of Goniopora or Flower Pot corals, making it suitable for aquaculture and life in aquariums. This strain of Goniopora does not exhibit the tissue erosion problems seen in other varieties. It has shorter tentacles than a traditional green Flower Pot and has a branching growth form.
The Goniopora Coral is often referred to as Daisy Coral, Ball Coral, or Sunflower Coral. All of the flower references are because of its appearance when all of its polyps are opened. It takes on the visage of a bouquet of flowers. It is the rounded or ball-shaped variety and should not be confused with its branching relatives. It is not overly aggressive, but space should still be provided between itself and other neighboring corals. Its polyps can extend far past its base into the reef aquarium, where it can sting other species of corals.
They will thrive in a variety of lighting conditions, ranging from power compacts, T-5s, powerful LEDs and up to the more intense metal halides. The ORA aquacultured corals satisfy the majority of their nutritional requirements by means of photosynthetic, symbiotic zooxanthellae algae hosted within its body.
The symbiotic algae zooxanthellae hosted within its body provide the majority of its nutritional requirements from the algae's light driven process of photosynthesis. It will also benefit from additional food in the form of micro-plankton or brine shrimp. Clownfish will often be found in association with the Goniopora Coral and play in its polyps if no anemone can be found in the reef aquarium.
The ORA Aquacultured Marshall Island Gonipora coral is attached to an argonite plug and can be easily placed in holes or between the rockwork of the reef aquarium.
Approximate Purchase Size:
1" to 2"
Supplies You May Be Interested In
Customer Testimonials
No testimonials have been submitted for this product.