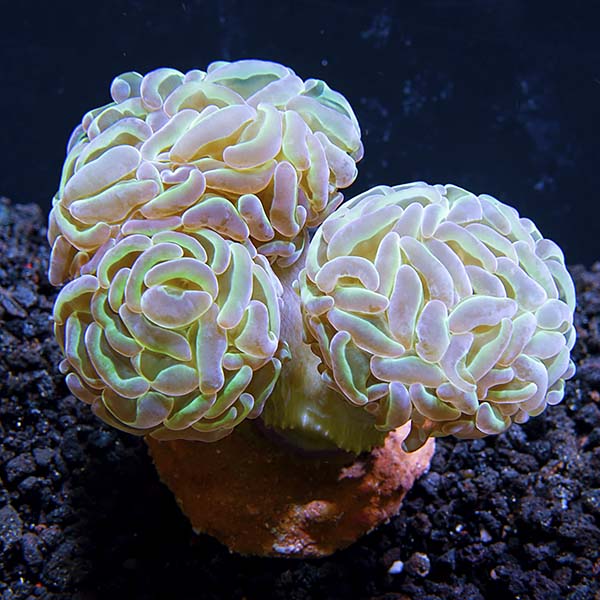 Please Note: Due to variations within species, your item may not look identical to the image provided. Approximate size range may also vary between individual specimen.
Overview
The ORA® Aquacultured Marshall Island Hammer Coral offers the conscientious reef-keeper a true aquacultured choice. This strain from Oceans, Reefs & Aquariums (ORA) has been in culture for years, alleviating impact on wild populations of these popular corals. A sophisticated color palette with gradations of pink and mauve gives the ORA Aquacultured Hammer Coral a wonderful floral appearance that instantly softens reef rockwork with color and cheer.
The Hammer Coral is a large polyp stony (LPS) coral often referred to as Euphyllia Hammer Coral or Anchor Coral. Its common names are derived from the appearance of its hammer-, or anchor-shaped tentacles. Its polyps are visible throughout the day and night and hide its skeletal base. It may be green, tan, or brown in color, with lime green or yellow tips on the ends of its tentacles that glow under actinic lighting. Some varieties may be branched which makes them look similar to a Torch Coral (E. glabrescens).
The ORA Aquacultured Hammer Coral is moderately difficult to maintain, but with proper water conditions in an established reef aquarium, it will thrive. It will require moderate lighting combined with medium water movement within the aquarium. At night, its sweeper tentacles can extend up to six inches in the reef aquarium, stinging other species. Allow plenty of room between it and other neighboring corals. For continued good health, the ORA Aquacultured Hammer Coral will also require the addition of calcium, strontium, and other trace elements to the water.
The ORA Aquacultured Hammer Coral will benefit from additional food fed weekly in the form of micro-plankton or brine shrimp .
The ORA Aquacultured Hammer Coral is attached to an aragonite block and can be easily placed in holes or between the rockwork of the reef aquarium.
Approximate Purchase Size: 1" to 2"
Supplies You May Be Interested In
Customer Testimonials
Russ H
Buffalo , NY
Just received 6 days ago. It is a stunning anchor coral. Has a double head, and seems to have adjusted very well. Looks very like a flower. My tank is a well established 34 gallon Current Solana, and I have AI hydra 26 lighting, which helps the color to pop. A center piece.
Russell H
Buffalo , NY
I purchased the coral a couple of months ago. It arrived in such beautiful condition, I fell in love with it. It has a centerpiece position in my aquarium, and appears to be the picture of health. Good lighting to bring out the color is important. Aquaculture is a good way to go. Responsible to the ocean environment that we all value so much.