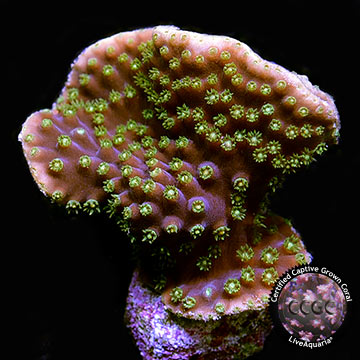 Please Note: Due to variations within species, your item may not look identical to the image provided. Approximate size range may also vary between individual specimen.
Overview
The Yellow Polyp Turbinaria has very small polyps compared to other Large Polyp Stony corals (LPS). Other Turbinaria species may be referred to as Pagoda, Turban, Cup, Vase, Bowl, or Scroll Corals. The genus name, Turbinaria, is derived from the Greek word turbinatus (cone-shaped) because it usually grows in a conical or cup shape while living on the reef. It may also be found in the form of cups, ruffled ridges, plates, vases, or scrolls. It may grow horizontally or vertically. Although the Turbinaria Corals may be bright yellow, green, brown, gray, or cream, the Yellow Polyp Coral is generally yellow to green. A number of species may extend their polyps during the day or night while in an aquarium.
Turbinaria sp. vary in the amount of care they require. Those that are highly convoluted or thin plates, like this one, require more water flow, but aquacultured pieces like this are relatively hardy and require moderate care level. It is a peaceful reef inhabitant and does not bother other corals that are placed in close proximity to it. However, it should still be provided with ample space away from other corals because it does grow quickly. It will require a medium light level combined with a medium water movement within the aquarium. For its continued good health, it will also require the addition of calcium, strontium, and other trace elements to the water.
It will benefit from additional food in the form of micro-plankton or baby brine shrimp.
Aquacultured Yellow Polyp Turbinaria Coral is mounted on a small fused aragonite plug that can be placed easily and securely in or between the rockwork in the reef aquarium.
Approximate Purchase Size: 1" to 2"

This LiveAquaria Certified Captive Grown Coral arrives with a Certificate of Authenticity & a 30-Day Arrive Alive, Stay Alive®, Risk-Free Guarantee. Learn more here >
Unlike most clip and ship coral frags, all of our Certified Captive Grown Corals are fully encrusted onto their plugs and are fully adjusted to artificial lighting and synthetic seawater, propagated and grown in our state-of-the-art facility in Rhinelander, Wisconsin.
Supplies You May Be Interested In
Customer Testimonials
Perry M
Fergus Falls , MN
Got one of these, and am very happy with it. It's tiny polyps opened right up and they glow bright yellow in the LED moon lights. Was packaged very well to protect it.