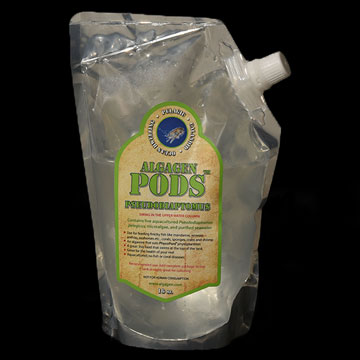 Due to variations within species, your item may not look identical to the image provided.
Overview
You've mastered reef lighting, perfected your water quality, now realize the amazing potential of adding a diverse live plankton community to your ecosystem! Copepods are a major component of marine zooplankton, and play a significant role in the oceanic food chain. Establishing active zooplankton populations in the home aquarium is the final key to ultimate aquarium success, and now it's easier than ever.
We're pleased to offer six new zooplankton starter cultures for use in marine aquariums and ornamental fish breeding. Experiment with different combinations of pods for different types of feeders. Mandarins and Seahorses, Anthias and Gobies, NPS Corals and Gorgonians, Acropora, Crinoids, Basket Stars, and more.
 
Tisbe biminiensis is an excellent all-purpose aquarium copepod owing to its role in the natural environment as a detritivore. An opportunist feeder, Tisbe can be used as a tank cleaner consuming uneaten food and wastes as well as phytoplankton in the tank and refugium. Tisbe is capable of producing many eggs during its adult life span that hatch into nauplii which will enter the water column as food for your filter feeding reef inhabitants and replenish the adult population vital to tank hygiene. Tisbe adults and juveniles may also enter the water column and be tasty and nutritious treats for your reef fish!

Great food for:
Copepod cultures can be introduced and maintained in aquariums several ways. Harpacticoids can be added to a sump or refugium preferably with a suitable substrate such as rock, sand or algae. It is suggested that the protein skimmer be turned off when adding the culture. Calanoids can be added to the main tank, most effectively at night when they won't be quickly predated by fish. Populations can be periodically enhanced by adding more culture as needed, typically about once a month. ReefPods can live together so multiple species may be added at the same time. Pod populations can be fed in culture or in tanks with PhycoPure Copepod Blend, a specially prepared microalgae feed. All of the AlgaGen ReefPods are herbivorous species of copepods that prefer the tropical temperatures of reef tanks.
Copepods can also be grown outside of the aquarium system in a culture vessel and then harvested to feed the aquarium. Pod culture can be tricky, some are easier than others, but with some simple equipment and a little dedication pod cultures are achievable.
Copepods are maintained at 78°F and at S.G. 1.020 with low light and very low aeration. We strongly recommend acclimating your copepods into your culture vessel or tank.
Pseudodiaptomus 1.2 - 1.5 mm,
Pods are guaranteed to arrive alive but are exempt from our extended guarantee after their arrival. 8 oz bottles contain 100 to 200 pods and 16 oz bottles contain 200 to 300 pods.
Customer Testimonials
No testimonials have been submitted for this product.