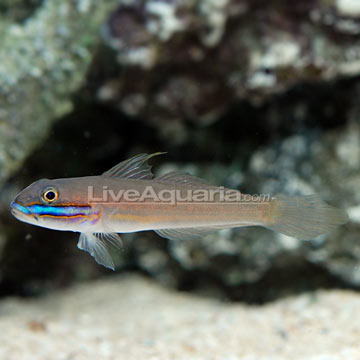 Please Note: Due to variations within species, your item may not look identical to the image provided. Approximate size range may also vary between individual specimen.
Overview
The Sleeper Green Banded Goby is a gem of a goby seldom seen in the aquarium hobby. This charming goby belongs to the popular sand-sifting gobies of the Genus
Valenciennea
. Better known "cousins" include the Diamond Watchman Goby, Sleeper Blue Dot Goby, Sleeper Railway Glider Goby and the Sleeper Gold Head Goby to which the Sleeper Green Banded Goby shares a striking resemblance. Though lacking a showy golden head, this graceful Sleeper Goby is a lovely beauty sure to turn heads. The body color of the Sleeper Green Banded Goby is predominantly soft pewter with a delicate overtone of olive. This neutral coloration provides the perfect canvas for the iridescent turquoise-green facial band that crackles with vibrant energy. Thin paint-brush strokes of complementary orange sandwich this band and gently travels across the entire length of the body. The refined beauty and its infrequent appearance in the aquarium hobby make the Sleeper Green Banded Goby a find for any marine hobbyists looking for an uncommon treasure.
To be successfully cared for, the Sleeper Green Banded Goby should be housed in a well-established 30 gallon or larger aquarium with live sand as the substrate. An attached populated refugium is important to properly care for the Sleeper Green Banded Goby. A well-sealed canopy should also be provided, as these fish like to leap out of the aquarium. The Sleeper Green Banded Goby will rarely become aggressive towards other fish but will demonstrate territorial behavior and fight with its own kind unless they are a mated pair.
As the Sleeper Green Banded Goby sifts through mouthfuls of substrate, it feeds on food items that live within the sand. This natural feeding behavior has the added benefit of keeping the substrate well oxygenated. The Sleeper Green Banded Goby feeds on a variety of live and frozen brine shrimp, mysis shrimp, live black worms, and prepared foods for carnivores, and should be fed frequently.
Approximate Purchase Size: Small: 1-1/4" to 2-1/4"; Medium: 2-1/4" to 3-1/2"; Large: 3-1/2" to 4-3/4"
Supplies You May Be Interested In
Customer Testimonials
No testimonials have been submitted for this product.