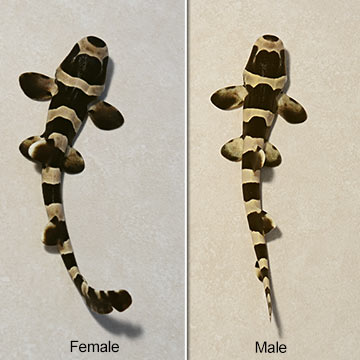 Please Note: Due to variations within species, your item may not look identical to the image provided. Approximate size range may also vary between individual specimen.
Overview
The Black Banded Cat Shark is known as a Cat Shark because the barbels at the mouth look like cat whiskers. It is also referred to as the Brownbanded Bamboo Shark, and has a cream-colored body with broad dark black stripes. There may be large, muted brown spots between the stripes when the fish gets larger.
The Black Banded Cat Shark is a bottom dwelling shark that is common in the home aquarium. It will eat any crustacean in the aquarium. It stays relatively small, but requires at least a 360 gallon or larger aquarium as an adult. It requires sand as the substrate as the abdomen is easily scratched by a coarser substrate, which may lead to an infection. It should never be exposed to copper-based medications.
Feeding may be difficult in the beginning. When first introduced into the aquarium, small pieces of cleaned squid or live saltwater feeder shrimp should be used to entice this fish to eat. Then it may be fed shrimp, scallops or pieces of fresh marine fish. Feeding these sharks quality foods such as whole cockle in the shell, fresh shrimp and squid, and frozen mussel are ideal.
Approximate Purchase Size: Small: 3" to 4"; Medium: 4" to 7"; Large: 7" to 10"
Please note: We guarantee that ALL aquaria species we offer will arrive alive and in good condition. However, because of the increased level of care required for this particular species, it has been designated as "Expert Only." This species is recommended only for the expert aquarist, zoo, or research institution. "Expert Only" aquatic life is exempt from our extended guarantee after their arrival.
Supplies You May Be Interested In
Customer Testimonials
John Moeller
Ellington , CT
I purchased this shark from LiveAquaria.com and I love it. They give you the best pets in great condition. I feed my shark out of my hand and also scratch his back. I just received a shark egg from LiveAquaria.com and am now trying to hatch him a friend.
Alvin Chan
Claremont , CA
Black Banded Cat Sharks have the capability to be in a reef tank. The exception is that the sharks have to be young. When they are introduced young into a reef tank, they will be more interested in climbing through cracks and such. Older sharks are already too big to fit in the tank. The enclosed area will cause the sharks not to grow to their absolute length making a dwarf version. I have two sharks, one about three months old and the other I got when he was six months old and now he is three. He has not grown much and seems to like the cracks to hide from the light. My two sharks are the same size, about 1-1/2'. I love them and they are not temperamental. They are fine for reef tanks when introduced young.
Ben Compton
Branson , MO
I bought a banded cat shark egg back in March and on June 14 he hatched to be a beautiful shark. He started taking frozen foods two days after he hatched! He sleeps all day but when it's night he swims all night long! He's been the easiest fish to start weaning on to frozen foods.
Robert Morales
La Vernia , TX
I purchased two Sharks form LiveAquaria, small & Medium, both are very healthy. They both started eating the same day I introduced them into my 480gal reef tank. These sharks are as so cool. Thanks.
Bob C
East Stroudsburg , PA
I purchased two 6" banded sharks three years ago. From years of experience, they seem to do much better in pairs. I found scallops and uncleaned squid works best when young. They grow quickly and both sharks eat silverside, shrimp and squid. Both are now just over 2ft., NICE!