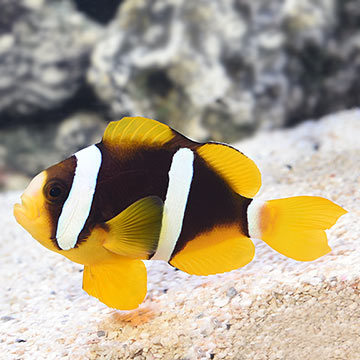 Please Note: Due to variations within species, your item may not look identical to the image provided. Approximate size range may also vary between individual specimen.
Overview
The Clarkii Clownfish is also known as the Clark's Anemonefish or Clark's Clownfish. It has a reddish-brown base color with white stripes and an orange forehead when full grown. The juvenile fish are yellowish orange in color with three white stripes on each side of the body. The Clarkii Clownfish, Black has a dark brown to black base with white stripes. The anal fin is white with a yellow stripe on the top and bottom.
Clarkii Clownfish is one of the hardiest, and therefore, one of the most common clownfish in home aquariums. A 30 gallon or larger aquarium containing an anemone of any type is desirable. It is semi-aggressive towards other clownfish and passive tank mates.
The Clarkii Clownfish diet consists of almost any meaty food items and herbivore preparations.
Approximate Purchase Size: Medium: 1-1/4' to 2"
Supplies You May Be Interested In
Customer Testimonials
Bil B
Brookline , NH
This fish is a riot! He steals food & hides it for later. He eats out of my fingers. At night, he hollows out a bed in the sand and lies down in it to sleep. Very amusing to watch!
Chris
PA
Watch out! This clownfish can get very agressive! All day long it tortured my Angelfish and Damesel. Even killed my Bannerfish! Unless he is in a agressive tank I would not suggest him!
Cole A
Toluca , IL
I have this clownfish in both of my tanks. They arn't to aggressive unless they have eggs. Also if you want a clownfish that will bond with an Anenome this is the fish to get, but be carefull if you have two of them in the same tank they will fight over that one anenome even if they are a breeding pair. So if you keep two anenomes in the tank everything should be fine. and they will bond with almost every kind out there. An amazing fish