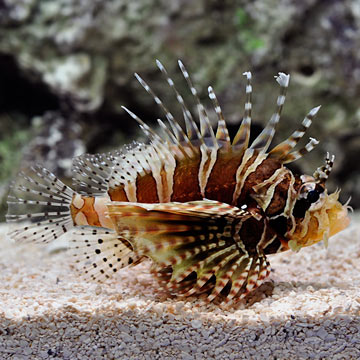 Please Note: Due to variations within species, your item may not look identical to the image provided. Approximate size range may also vary between individual specimen.
Overview
Dendrochirus zebra
is known as the Zebra Lionfish or Dwarf Lionfish. It has red, white, and black vertical stripes along the body; large, fan-like pectoral fins; and tall, quill-like dorsal fins.
A 50 gallon or larger aquarium with numerous hiding places is suitable. It will hide while acclimating to its new environment. The top spines are venomous, causing reactions similar to a bee sting. To treat the sting, soak the affected area in hot water (100-110º F).
When first introduced into the aquarium, live saltwater feeder shrimp should be used to entice this fish to eat. The Dwarf Lionfish diet consists of meaty foods such as live shrimp (including ornamental shrimp), live fish, and sometimes, crustacean flesh.
Approximate Purchase Size: Small: 1" to 1-1/2"; Medium: 1-1/2" to 2-1/2"; Large: 2-1/2" to 4"; XLarge: 4" and Larger
Supplies You May Be Interested In
Customer Testimonials
Chris K
Murrieta , CA
I have had this fish for a week and it would not eat until I gave him some ghost shrimp. He chowed down, and now I'm trying to get him to eat somethng else. I love this fish.
Mark K
Chicago , IL
I have been in business for 22 years and this fish is my favorite it has nice color and I just love it!
Ginger W
Charleston , SC
This is definitely the coolest little fish ever! He is almost a perfect, miniature replica of the large lions that people love to watch in big tanks. For his tiny size, he packs a big punch! Just beautiful!
Jay P
Tampa , FL
Can be very timid, but when he swims out from behind the rocks he is very graceful. He is fun to watch eat because he "stalks" his prey (he loves small frozen feeder fish). When he strikes, he is lightning fast and eats the fish whole.
Robert B
Wheeling , WV
Second Time ordering from this site and couldn't be happier. The lion came and I was concerned about him eating. Picked up some ghost shrimp from local pet store and gave it to him. He came after it emmediatly. First day and first ghost shrimp.
Anonymous
AR
Took over a year to get him to eat frozen food, besides that he is very social. Any time someone comes to the front of the tank he shows off trying to get food. The pictures on here don't do this beautiful fish justice.
Shaune Gilbert
Again, I received a very healthy and beautiful marine fish ( dwarf Zebra Lion fish) today. I'm very pleased with my purchase from Live Aquaria!