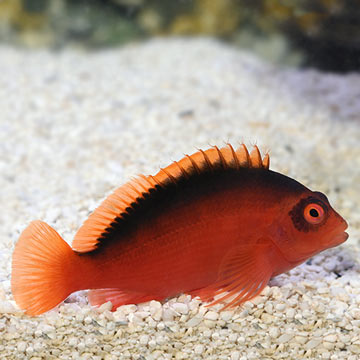 Please Note: Due to variations within species, your item may not look identical to the image provided. Approximate size range may also vary between individual specimen.

SAVE up to 8%!
Flame Hawkfish
(Neocirrhites armatus)
Additional locales and sizes may be available!
Overview
The Flame Hawkfish, also known as the Brilliant Hawkfish, has a bright red body with dark markings along the dorsal fin and around the eyes. They are a very personable fish, and are great for reef aquariums as long as there are no small shrimp maintained in the aquarium.
It requires a 30 gallon or larger aquarium with plenty of live rock for structure and hiding. They are mostly a peaceful fish that spends most of its time perching and swimming within the branches of hard corals. Use caution when adding to an aquarium with small species of bottom dwelling gobies and blennies. They are bottom dwellers and tend to "hang out" on rock perches, waiting and readying themselves for food to come by.
The Flame Hawkfish diet should include a variety of marine meats, frozen preparations, and live feeder shrimp.
Approximate Purchase Size: Small: 3/4" to 1-1/2"; Medium: 1-1/2" to 2-1/2"; Large: 2-1/2" to 3-1/2"
Supplies You May Be Interested In
Customer Testimonials
David B
Toledo , OH
I just love my Flame Hawkfish. He has personality and wonderful coloring. Drs. Foster & Smith delivered a beautiful and healthy fish!
Stephen P
Cordova , TN
This is a terrific fish. Tons of personality and very easy to care for! Truly a must for any saltwater setup beginner or experienced!
Omar F
Los Angeles , CA
This species is an awesome addition to any reef or community tank! They are very hardy!
Tony M
Abilene , TX
It's been about a week since I received my Flame Hawk. He is adjusting nicely. He is fun to watch, a quick swimmer, and has a brilliant red color. Packaging/shipping was great!
Robert M
Roseland , NJ
Hands down one of my favorite fish. Very cool to watch as it swims in leaps and bounds to perch on rocks. Then it swoops down when it sees food.
John M
Ellington , CT
I just love my Flame Hawkfish. He has a beautiful red-orange bright coloring, is not timid, and he "waddles" on the sand. I love him, thanks for sending me such a healthy, cool, colorful, long-lasting fish.
Brett B
Arlington , TX
What a great fish! This was the first fish in our 185-gallon aquarium, which we set up 10 years ago. Even at 10, he is just as lively as the first day we had him. I recommend this fish to anyone and everyone.
Bob Y
NYC , NY
Great fish for any reef. havent touched any shrimps or crabs. always begging for food when i get near.
J Cole
Jacksonville , FL
Our mated pair, Don and Kathy, are among our favorites. Reminds us of Ffish in Cat in the Hat. GIve them plenty of hiding spots and stack rocks/other decorations high enough for them to feed on food as it sinks.
Janice T
Monroe , LA
I love love love my flame hawkfish. So much fun to watch. Mine has been in my tank for 16 years. Yes, they are hardy!!
Janice T
Monroe , LA
This fish is a great addition to our tank. Everyone who visits our house loves to watch this entertaining fish. We have had our flame for nine years, and it was the first fish on our "wish list." SO very glad we did get him. Thanks.
Lisa Garret
Cary , NC
If you havent had one of these guys, you are missing out. The comedian of the fish world, jumps all over the tank from perch to perch to amuse you while shifting his eyes the whole time. Great with other fish. Live Aquaria really sends quality fish, you wont be disappointed.