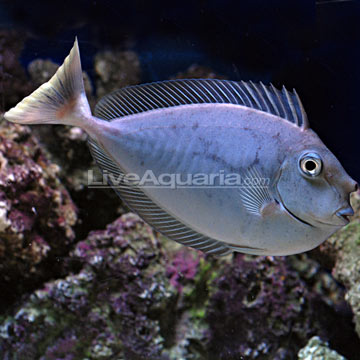 Please Note: Due to variations within species, your item may not look identical to the image provided. Approximate size range may also vary between individual specimen.
Overview
The Blue Unicorn Tang, also known as the Spotted Unicornfish, originates from the pristine waters surrounding Hawaii. They are silver as a juvenile, and with age, gradually darken into a beautiful black and blue coloration. Their shape also changes from being oval as a juvenile, to a long, bullet-like shape as an adult. These tangs also develop a long horn on the nose when they enter adulthood.
A 360 gallon or larger aquarium with plenty of live rock is necessary to provide plenty of swimming room and places to hide. It is aggressive towards its own species, but peaceful with other fish.
Although Tangs will eat meaty foods along with the other fish in the aquarium, it is important that they are offered plenty of marine based seaweed and algae. This will strengthen their immune system, reduce aggression and improve their overall health. Offer dried seaweed tied to a rock or use a veggie clip, and feed at least 3 times per week. Sea Veggies, Seaweed Salad and Ocean Nutrition are all ideal products and are very easy to use.
Approximate Purchase Size: Small: 1-1/2" to 3"; Medium: 3" to 5"; Large: 5" to 8"
Supplies You May Be Interested In
Customer Testimonials
Bob Onuma
Buffalo , MN
Response By Email (Taylor B) (10/22/2016 02:44 PM) angelpower99@yahoo.com Customer By Service Email (Kimberly onuma) (10/21/2016 04:30 PM) From: bob onuma buffalo, MN Email: angelpower99@yahoo.com Product: Blue Unicorn Tang http://www.liveaquaria.com/product/prod_Display.cfm?pCatId=1757 Comments: Recently I purchased an adult large blue unicorn. I would say it is about 6" with ¼" horn developed so far. This is one of the most interesting unicorn fish ever. They change its appearance as they are growing each stage; when they are juvenile, they are more round with rather boring silver color. When they reach sub-adult stage, they get more blue coloration and its body become slender. When they become adult, they start developing a nice horn with darker vertical strips. If you are looking for a "true" blue tang (naso brevirostris), make sure to buy it from Liveaquaria. They will send you correct specimens. I've been looking for this specimens for years. Last year I bought one from one vender in the west who advertised as naso brevirostris, they sent me completely wrong specimens. I confirmed it was sleek tang, judging from its caudal and other appearance. A correct blue tang has a caudal fin (tail) with white trim even when they are smaller.