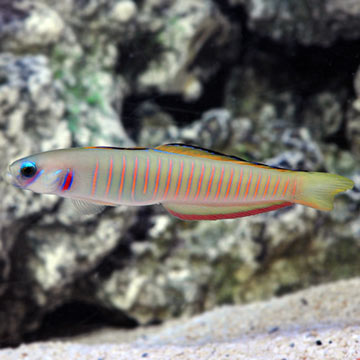 Please Note: Due to variations within species, your item may not look identical to the image provided. Approximate size range may also vary between individual specimen.
Overview
The Zebra Barred Dartfish is also referred to as the Zebra Dart Goby, Bar Goby, Barred Dartfish, Zebra Goby, or Chinese Zebra Goby. Both the head and body of the Zebra Dart Goby are light green. Its attractive slender body has numerous vertical, evenly-spaced thin orange stripes displaying an intricate pattern.
A tank of at least 30 gallons or larger with a sandy bottom, plants, and coral will provide a healthy environment. Small groups or pairs tend to do better in an aquarium than a single individual, but all need to be introduced to the tank simultaneously and have plenty of swimming room.
The meaty diet of the Bar Goby should include fresh or frozen seafood and brine and mysis shrimp.
Approximate Purchase Size: 1-1/2" to 4"
Supplies You May Be Interested In
Customer Testimonials
Brandyn G
Santa Monica , CA
I have a pair of these fish and they are wonderful. They have so much personality. They have constructed a burrow under one of my rocks and if they aren't suspended in the water column you can usually see them poking their little heads out of their "home." They absolutely recognize me and come to the surface at feeding time. Their huge eyes look like puppy dog eyes and they absolutely glow under the actinic lights. A must-have, easy-to-keep fish for beginners and experts alike.
Bob F
Round Lake Beach , IL
I have two of these great little fish. I think they are male and female due to difference in colors. They are inseparable, and love darting in and out of crevices.
Jovan C
Clermont , FL
Beautiful fish especially when it's swimming. A fine addition to a peaceful tank. Added personality to my already lively tank.
Bob
Boston , MA
I seldomly leave a comment but this fish is worth it! it is my personal favorite
Jennifer G
Fort Worth , TX
I ordered two of these fish, and they arrived big and heathy. They acclimated to the tank right away, eating right along with my other fish. They will even eat out of my hand now! Their color is great and they are really neat to watch. They are a fun addition to any peaceful tank. I will continue to buy from live aquaria!
Jane Datz
Rochester , NY
Loved them but couldn't keep them in the tank. Even with a canopy they managed to jump out. They were so pretty and always out from but quickly started finding ways to escape the tank and die. Don't get unless your tank is 100 percent jump proof