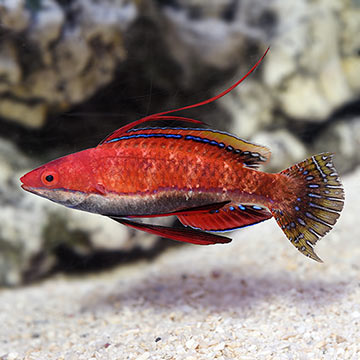 Please Note: Due to variations within species, your item may not look identical to the image provided. Approximate size range may also vary between individual specimen.
Overview
The Ruby Longfin Fairy Wrasse is also known as the Blue and Red Fairy Wrasse or Social Wrasse. This species varies in coloration considerably but is usually bright red/orange coloration with a pale body and scarlet ventral and anal fins. More often than not this species will have a pale underside. Please expect variations in coloration with these fish, as the intensity of coloration and patterns vary with the location in their natural habitat, and their mood.
The Ruby Longfin Fairy Wrasse is an ideal fish for the reef aquarium adding both bright coloration and activity to these aquariums. Wrasse of the genus Cirrhilabrus mix well together if they are introduced simultaneously to the tank, and are one of the best groups of fish for a reef tank setting.
The Ruby Longfin Fairy Wrasse diet should include vitamin enriched frozen mysis shrimp, vitamin enriched frozen brine shrimp, and other meaty foods along with a high quality marine flake and marine pellet food.
Approximate Purchase Size: Small: 1-1/4" to 2"; Medium: 2" to 3"
Supplies You May Be Interested In
Customer Testimonials
Jessica K
Centerton , AR
A very friendly and gentle fish. Not pushy or aggressive yet not too timid. He is friends with my clownfish and they swim together often. He is easy to feed and his favorite foods are frozen shrimp and Marine S pellets. Does not bother any of the invertebrates or corals. At night he sleeps on a ledge in the Live Rock. This is a wonderful fish! I definately recommend this fish.
Daniel Rose
K , AZ
I recently purchased a Longfin Fairy Wrasse and I would strongly recommend this fish to anyone with a moderately sized tank. Mine is in a 60-gallon reef with only inverts and soft corals and it does fine and adds a great deal of color to the aquarium. Pictures do this fish no justice, when it comes the vibrant red it almost hurts your eyes to look at it.
Heather S
Mt Orab , OH
I bought a male of this species. This Wrasse is beautiful with awesome colors and was comfortable in my tank by the second day. It is very peaceful and eats well. I have it in with a Sixline Wrasse, two Ocellaris Clowns, Flame Angelfish, Royal Gramma Basslet, etc. without any problems.