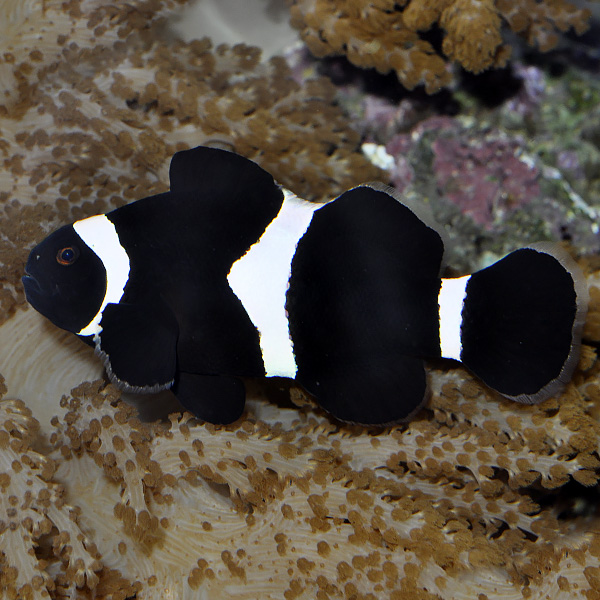 Please Note: Due to variations within species, your item may not look identical to the image provided. Approximate size range may also vary between individual specimen.
Overview
The Black and White Ocellaris Clownfish, also known as the Black Perc, Black Percula Clown Anemonefish, or Black and White False Percula Clown and is normally found in association with anemones on the reefs of the Coral Sea. It can be found individually, or more commonly, in pairs or small groups within the same anemone such as
Heteractis magnifica
or
Stichodactyla mertensii
. These captive-bred clownfish grow to a maximum size of 3 inches in the aquarium, and may be kept singly or in groups.
The Black and White Ocellaris Clownfish is very distinctive with its jet-black body and three white stripes on each side. They are very hardy and are perfect for the novice or seasoned aquarist. Interestingly, the Black and White Ocellaris Clownfish begins life donning an orange coloration that slowly transitions to a beautiful caramel or umber coloration as juveniles. It takes the Black and White Ocellaris Clownfish roughly a year to gradually darken to their final jet-black coloration. It is not uncommon for some adult individuals to retain traces of the orange/umber coloration, especially around their mouth and face.
The Black and White Ocellaris Clownfish is a good candidate for a reef aquarium. If introduced to the aquarium at the same time, many varieties of tank raised clowns can be maintained together in the aquarium.
Captive-bred clownfish are easy to breed in the home aquarium. The females will be the largest of the pair, and two fish will usually stay close to each other in the aquarium. These fish are egg layers and will deposit the eggs on a flat surface, and defend the eggs from other tank mates. The eggs will normally hatch in 6-11 days depending on the temperature. The fry must be reared in a separate aquarium on a diet of rotifers then baby brine shrimp.
Captive-bred clownfish are omnivores, requiring both meaty foods as well as some greens in their diet. A high quality marine flake food, rich in spirulina algae, as well as freeze dried and frozen foods are readily accepted.
Approximate Purchase Size: Small: 3/4" to 1-1/4" Medium: 1-1/4" to 1-3/4"
Supplies You May Be Interested In
Customer Testimonials
Missy Gonzalez
Harlingen , TX
I just received my two Black and White Clowns and I love them! They shipped great and have acclimated well. I released them and they have been doing fine so far. I am really happy with my order and will definitely be ordering from LiveAquaria.com again!
Susan Lemso
Naugatuck , CT
Beautiful fish; I ordered 2 and they arrived in perfect condition. They are thriving and doing well. Shipping and packing is excellent. I have purchased at least half a dozen fish; this is my place to purchase marine fish etc.
Thomas McAndrew
Illinois , IL
This is such a beautiful fish. They are very active. Mine is a little aggressive but has settled down. These are a perfect fish and aren't the normal looking "nemo".
Brent Larson
Chester , SC
I received 3 last week and they are doing very well so far. I was amazed that my largest clown took right up with them,from the moment they we introduced into the reef. They seem to be very hardy and for some reason the other inhabitants didn't bother them. Thanks LiveAquaria!
Nate W
San antonio , TX
I have just got mine in they are very very active fish. I have had thousands of clowns before and these are all time my favorite pair of clowns i have had. He is always out in front of the tank and is super friends. Thank you liveaquaria.com
Michelle Stewart
San Antonio , TX
OMG, these little guys are sooooo cute! I got one from England and one from Australia. The Australian one is a little bigger and has more brown on its face. The little one hangs on the bigger one's every move. They shipped fine and seem very healthy. They got together only moments after being in the tank and haven't left each other since. They seem to be using my MagFloat as a home base for now, quite cute. Thanks so much LiveAquaria! They are just what I was looking for, and tank bred to boot!