Zebra Danio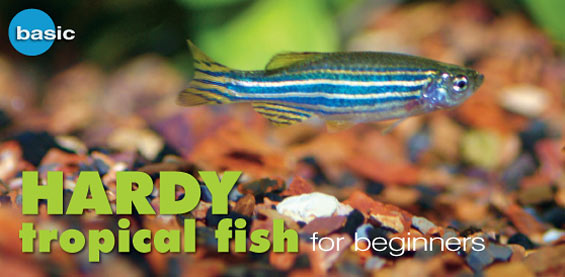 Zebra Danios (scientific name, Danio rerio) are freshwater fish belonging to the family Cyprinidae. They are easily one of the most popular freshwater aquarium fish due to their hardiness and easy care. Best kept in groups of 6 or more, Zebras make an active addition to community aquariums, bringing movement and life to any aquascape.
The body of Zebra Danios is a shimmering metallic silver/gold accented with bright, blue zebra stripes with a hint of purple. Female Zebra Danios have more subdued coloration than males. They co-exist peacefully with other species of Danios as well as with other peaceful fish of similar size, making them a safe bet for the beginner.
Interesting Facts:
Family:
Cyprinidae.
Origin:
India.
Size:
Up to 3"
Diet:
Omnivorous.
Tank Setup:
Freshwater. Planted, but with plenty of swimming area.
Tank Conditions:
64-75°F; pH 6.0-7.0; KH 8-12
Min. Tank Capacity:
10 gallons.
Temperament:
Peaceful.
Swimming Level:
All areas of the aquarium.
Care Level:
Easy.
Reproduction:
Egg layers.