What is the Diver's Den® WYSIWYG Store?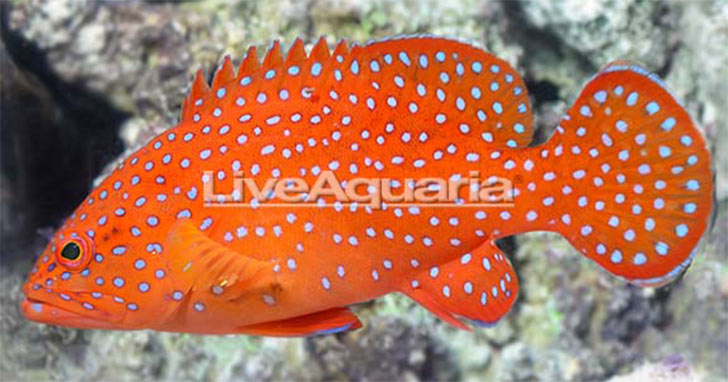 Miniatus Grouper (Cephalopholis miniata)
What is the Diver's Den® store?
The Diver's Den® WYSIWYG store from LiveAquaria® is a carefully curated selection of live aquatics that enables the home aquarist to set themselves apart from other collectors by bringing home prized, highly desirable, and anticipated species of quality aquaria. The inventory is updated every weekday. Join the ranks of followers who check the LiveAquaria® website each weekday to see what specimens are available through the Diver's Den®.
What does WYSIWYG aquatic life mean?
Each specimen offered is a WYSIWYG item. What exactly does that mean? WYSIWYG stands for 'What You See Is What You Get.' The photos that you see in the Diver's Den® area of the LiveAquaria® website are photos for the exact item you will receive. All Diver's Den® items are held, quarantined, and shipped from our state-of-the-art Wisconsin facility within two shipping days of processing your order.
A note about our photos: To provide ideal color & lighting, these species are photographed from above, or through conventional glass and acrylic aquariums, illuminated under EcoTech Marine Radion™ XR30W lighting for marine specimens, Full Spectrum LED lighting for freshwater specimens, and 10K 150 Watt Metal Halide for Marine Fish. The coloration of the animal will vary under different intensities and Kelvin ratings of light bulbs. The species shown may look different under 10K Metal Halides, VHO, T5 or Power Compact Lights, LEDs, and may take time to recover its color after shipping.
Aquatic stock available in the Diver's Den® WYSIWYG store
What are some of the products featured in the Diver's Den® store? You can find one-of-a kind marine fish, freshwater fish, aquacultured corals, clams, LPS corals, SPS corals, maricultured corals, polyp, mushroom, soft corals, non-photosynthetic (NPS) corals, and invertebrates that are not likely to be seen anywhere else.
Why choose the Diver's Den®?
In addition to offering highly sought-after one-of-a-kind stock, our Diver's Den® process consists of a strategic approach to ensure you receive the healthiest stock. The process consists of acclimation, stress reduction, disease prevention, quarantine, and conditioning. We employ these protocols under the strict supervision of our dedicated LiveAquaria® professionals. Through the five stages, specimens become eligible to be placed in the Diver's Den® store. At this point, they are photographed and uploaded to the LiveAquaria® website Monday through Friday from 5:00 pm to 6:00 pm Central Time.
All Diver's Den® items are received, held, and shipped from our state-of-the-art facility in Wisconsin. Our cutting-edge facility employs the most sophisticated technology in lighting, filtration, water movement, and quarantine systems to ensure your new purchase makes a safe and successful transition into your home aquarium. The LiveAquaria® Coral Farm & Aquatic Life Facility began operations in 2005 and is considered to be one of the nation's premier coral propagation facilities.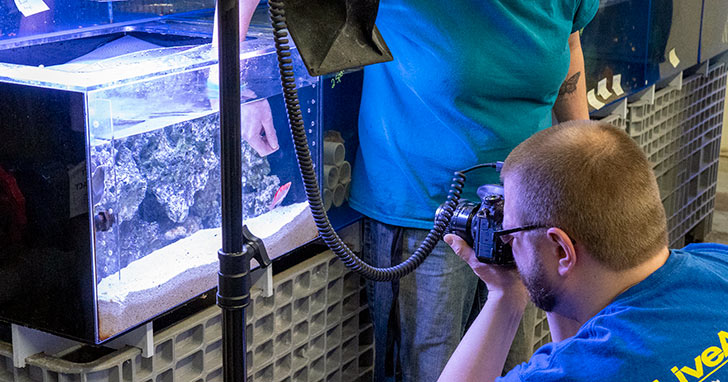 There are seven dedicated areas to this facility:
The Acclimation Room is used for unpacking shipments from around the world. This is the first step in protecting brood stock and coral frags from pathogens and pests. This is done to help prevent exposure of potentially devasting organisms or sick fish to our customers.
Our dedicated SPS Quarantine System for new SPS corals is where they can be dipped and monitored to ensure they are parasite-and disease-free before introducing them to the main holding system.
The Testing Bench is where the minerals for both fish and coral are checked daily.
Dedicated Fish Systems consisting of a quarantine system for new fish, a conditioning system, and three main fish systems designated for the Diver's Den® WYSIWYG store. All fish brought into the facility are quarantined, observed (and medicated if needed) for a minimum of two weeks. They are all checked to be sure they are eating well and are fully adjusted to a captive environment, so they can make a smooth transition into your home aquarium.
We provide environments that allow coral to flourish with our Soft Coral, Polyp, Mushroom, LPS and Clam Quarantine System. Meeting the requirements of each individual group is achieved with customized nutrient, illumination, and filtration strategies.
The Pack-Out Area is utilized to ensure that all aquatic life leaving the Wisconsin facility is packed in fresh, clean seawater that matches the water parameters in the facility.
The Coral Brood Stock and Grow-Out Area has three main coral raceways that house the majority of corals kept in the facility. Another three raceways are dedicated to propagation and used as grow-out vats for our Certified Captive Grown Coral frags.
More information about the LiveAquaria® Wisconsin facility can be found here.
Ordering from the Diver's Den® WYSIWYG store
If you are interested in shopping in the Diver's Den® store, here are some tips to help you get the specimen you want to add to your home aquarium.
Sign in as a returning customer via the "Sign in" link on the LiveAquaria® home page. Hint: if you set up your profile as an Express Customer, you will be able to check out in as little as two clicks.
5:00 pm to 6:00 pm Central Time Monday through Friday is when the Diver's Den® WYSIWYG store inventory for that day becomes available. To be one of the first to view the day's offering, arrive a few minutes early and select the category you are interested in shopping, and refresh the page often.
Add items to your cart and check out ASAP. Finalize your order immediately and secure your prized Diver's Den® purchase. Note: you are purchasing the exact item shown. Whomever finalizes their purchase and checks out first is the person who will receive the WYSIWYG item. Unfortunately, LiveAquaria® is unable to hold items while they are in someone's cart.
Once your order has been placed and processed, your items will be sent within two shipping days.
Email alerts for 'Sneak Peeks' and 'Once Daily'
If you would like to receive email alerts relating to Diver's Den®, feel free to sign up for email alerts. You will be among the first to know about these one-of-a-kind offerings. There are two different types of emails that are sent: 'Sneak Peak' and 'Once Daily.'
The 'Sneak Peak' email enables you to get a preliminary look at what might be available in that day's Diver's Den® WYSIWYG store.
The 'Once Daily' email is the definitive final listing of what is available for purchase in that day's Diver's Den® WYSIWYG store.
When you sign up, you can select which email you wish to receive for freshwater offerings, saltwater offerings, or both.