Introduction to Mushroom Coral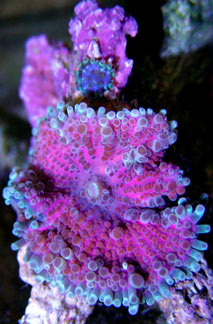 Mushroom corals commonly have the appearance of round disks but are available in a multitude of colors and patterns. They are sometimes referred to as a "false" coral because they do not have an internal skeleton like other corals, but do have the same internal structure.

Mushrooms do not have the long polyps to collect food, but some can actually fold over themselves to catch small prey. They do well in moderate light rather than metal halide, prefer gentle currents, and can tolerate higher nitrate levels than other corals.

Mushroom varieties can vary greatly in size, from under an inch, up to 2 feet. Their hardiness and large variation of colors and sizes make them a favorite of beginning reef enthusiasts as well as experienced hobbyists. These reproduce easier than most, and must be given room to expand or they could injure nearby corals.

Interesting Facts:
Origin:

Indonesia.

Size:

Up to 24 inches.

Ideal Supplements:

Calcium, Strontium, Iodine, Trace Elements.

Tank Setup:

Saltwater. Liverock and sand.

Tank Conditions:

72-78°F; sg 1.023-1.025; pH 8.1-8.4; dKH 8-12.

Light:

Moderate Light.

Dominance:

Semi-Aggressive.

Placement:

All.

Care Level:

Easy