Bubble Tip Anemone Green with Colored Tips
(Entacmaea quadricolor)
Item:

120121003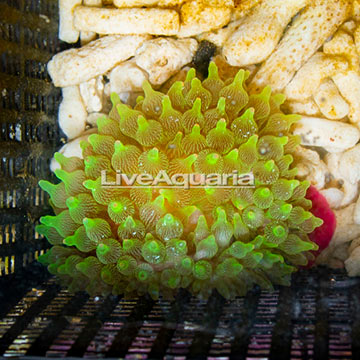 Overview
Size: 3-1/2"
Indonesian green Bubble Tip Anemone with colored tips. This anemone has a purple oral disc and mouth. The tentacles of this anemone stick well and are green with orange tips. The underside of the oral disc is purple, with a smooth red column and pedal disc. This bubble tip anemone prefers to attach to piles of rocky rubble and coral rubble, and is maintained under 250-Watt DE-10K bulbs that are suspended 18" above the water surface in a raceway that is 16" deep. This anemone is fully quarantined, and is feeding well on a mix of PE Mysis and finely chopped raw shrimp. The diameter of the pedal disc is 1-3/4" and the anemone is 3-1/2" in diameter when fully open.

Diver's Den® species are what-you-see-is-what-you-get - the EXACT item you are ordering, not a representative photo. This specimen is currently available. To order, click the Add To Cart button at the top right of the page.

All Diver's Den® items must be shipped within 2 shipping days of placing your order.

Please note: if you do not complete your order by checking out, someone else may order this specimen.
Supplies You May Be Interested In