In the pursuit of providing the best water quality for your aquarium, you may find that the water coming out of your tap just does not have the correct parameters for your aquarium's inhabitants. The plain tap water can even include toxic chemicals. One simple solution to this problem is to use a Reverse Osmosis (R.O.) unit to purify and soften the water.
How does Reverse Osmosis work?
Using the simple principle of applying a pressure gradient to a semi-permeable membrane, you can eliminate most of the chemicals found in the tap water and produce pure water. The semi-permeable R.O. membrane only allows very small molecules (such as H2O) to pass through it, effectively removing 90-99% of most water impurities including pesticides, arsenic and heavy metals.
Freshwater Aquariums
For freshwater applications, using an R.O. unit will provide water without General Hardness (GH) or Carbonate Hardness (KH). This allows addition of trace elements and electrolytes to match the natural water conditions of the fish we keep. The removal of the KH allows use of buffers to easily set the water's pH wherever you wish. This is great for plants and soft water loving fish like Discus and Angels.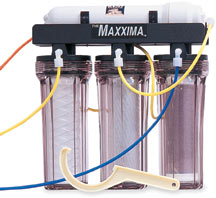 Marine Aquariums
For marine applications, an R.O. unit removes most of the "unknowns" that might cause problems. But, unfortunately, the standard R.O. membrane does not remove nuisance chemicals like phosphate, nitrate, or silicates. These chemicals are undesirable because they contribute to algae growth, which is enough of a problem without adding nutrients to help it along. The Hi-S membrane, which is less permeable than standard R.O. membranes, removes up to 99% of silicates. An R.O. unit with a final stage deionization (D.I.) cartridge removes any phosphates that pass through the R.O. unit. The combination R.O./D.I. gives you the pure water that is best for the fish and plants in your tank.
Maintenance of RO Units
Regular maintenance of the R.O. unit requires replacement of the sediment pre-filter and carbon block. The manufacturer suggests replacing these cartridges after producing 1000 gallons of R.O. water. This is gauged by watching the pre-filter and noticing any color deviation from its original color. The semi-permeable membrane needs replacing after approximately three years. You can increase the life of the membrane by utilizing the optional R.O. flush kit. On the Maxxima series, the deionizing resin has a color change indicator to signal when you need to replace the resin.
Overall, R.O. units definitely benefit your fish and plants by removing impurities in your water. Knowing how many impurities your water contains, helps you determine the best R.O. unit for your aquarium.
Simple reasons to use an R.O. unit:
Provides softened water, removing GH or KH, which allows you to adjust the pH to match the water requirement parameters of your fish.





Eliminates possible toxins and other unwanted compounds from your water.





R.O./D.I. units remove any phosphate or nitrate that passes through the R.O. unit, reducing algae.





R.O. water is perfect for topping off the aquarium's evaporated water.




R.O. units easily connect to most faucets, and with the available Float Valve Kit can be automated to stop once your collection reservoir is filled.



Replacement of the Sediment Pre-Filter and Carbon Block is easy, making maintenance and operation a snap.





Deionizing resin of the Maxxima series changes color when the resin is exhausted and needs to be replaced.