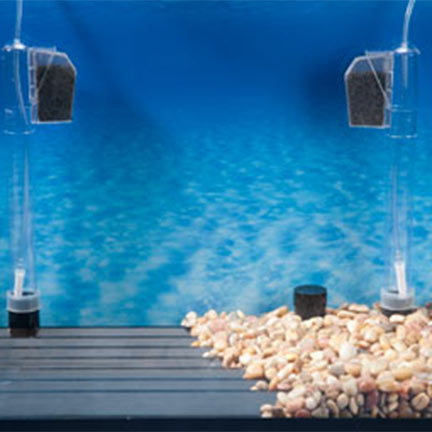 Overview
| | |
| --- | --- |
| * | Premium Undergravel Filter provides great biological and mechanical filtration; may also use with a power filter to further optimize aquarium water quality |
| * | Naturally detoxify your freshwater or saltwater aquarium water by facilitating beneficial bacteria growth in your aquarium gravel bed |
| * | Strong, multi-level hard-plastic design made in the USA - great for aquariums with live rock or other heavy elements |
Easy-to-install, USA-made undergravel aquarium filter detoxifies freshwater or saltwater aquarium water naturally. The Premium Undergravel Filter circulates water through your aquarium gravel/ substrateand facilitates the growth of billions of beneficial bacteria in your aquarium gravel. As bacteria thrive and multiply in your aquarium gravel bed, they naturally filter water, neutralize ammonia, and ultimately make your overall aquarium environment safer and more hospitable for all your aquarium inhabitants. If you wish, you may use the Premium Undergravel Filter with a power filter to optimize aquarium water quality.
Lee's Premium Undergravel Filter feature hard-plastic plates with a multi-level design to enhance the undergravel filter's overall structural strength. Plates resist splitting and cracking, even in aquariums with heavy live rock or other weighty aquarium elements. Plus, large plate sizes reduce the total number of plates required in your aquarium. Elevated, molded-in gravel guards eliminate the possibility of gravel falling down into the undergravel filter's uplift tube.
All sizes of Lee's Premium Undergravel Filter include at least 2 fish-saver elbows that protect your aquarium fish from injury, at least 2 Discard-A-Stones that help oxygenate your aquarium water, and at least 2 premium carbon cartridges to remove dissolved toxins and impurities from aquarium water.
Replace Carbon Cartridges and Discard-A-Stones every 2-3 weeks for optimum filter performance.
Lee's Premium Undergravel Filters require an air pump or powerhead for operation.
| | |
| --- | --- |
|   | Actual Plate Size |
| 50/65-gallon | (2) 16" x 17-1/2" |
| 70/90-gallon | (2) 16" x 22-1/2" |
| 125/135-gallon | (3) 16" x 22-1/2" |
Included components
Filter Size
50/65-
gallon
70/90-
gallon
125/135-
gallon
Filter
Plates

2

2

3

1" dia
Uplift
Tubes

4

4

6

Airline
Tubing
4 - 20"
lengths
4 - 30"
lengths
6 - 30"
lengths
Telescoping
Rings for
Uplift Tube

4

4

6

Fish-Saver
Elbows

4

4

6

4

4

4

6

Discard-
A-Stones
Inserts

4

4

6

Airline
Connectors

8

8

6

Premium
Carbon
Cartridges

4

4

6

Gravel
Guards

8

8

12

Gravel
Guard
Caps

6

6

9
Frequently Asked Questions Regarding Undergravel Filters
Q. How does the undergravel filter work?
A. Once filter is assembled and connected to an air pump or powerhead, it creates a current within the uplift tubes. This current draws water down through the filter plate and up the uplift tubes, creating a strong circulation of water through the gravel.
Q. Do I need a power filter with the undergravel filter?
A. Power filtration is not required to maintain a healthy aquarium when using a premium undergravel filter. Power filtration, however, is a nice complement to the undergravel filter. It provides an excellent source of mechanical and chemical filtration since the water is typically filtered through media such as carbon and floss. The undergravel filter also provides a bed of nitrifying bacteria that surpasses any power filter.
Assembly Instructions:
Place undergravel filter plate in aquarium and position it with the gravel guards to the back of the aquarium.
Place the telescoping ring over the gravel guard.
Place the uplift tube inside the telescoping ring.
Insert airline through hole in the elbow, push insert into Discard-A-Stone and connect to the airline tubing.
Guide the Discard-A-Stone into uplift tube, dropping it down to secure elbow to uplift tube. Adjust height by raising or lowering uplift tube to keep elbow below water level. Adjust Discard-A-Stone level to bottom of plate.
Place caps over all unused gravel guards.
Slide cartridge straight into elbow.
Place on top of the filter plate 1-1/2 lbs of pre-rinsed aquarium gravel per gallon of water (gravel not included).
For use with an air pump
Additional airline tubing will be required to connect the undergravel filter to the air pump outlet. To initiate the filter operation, make sure to plug in the air pump.
For use with powerheads
Follow instructions 1-3. Other than the gravel guard caps, the remaining parts will not be needed. Follow the manufacturer's instructions for assembly and place on top of the uplift tubes. To initiate the filter operation, make sure to plug in your powerhead.
Getting started
When your aquarium setup is complete, be sure to provide proper water treatments, heating, and lighting. Add a small number of hardy, healthy fish to trigger the beneficial bacteria growth in the gravel. The process should take about 4 weeks. During this period, minimize feeding and refrain from adding new fish. You can monitor the progress by testing the water with a test kit (for ammonia, nitrite, and nitrate). An approximate timeline:
Weeks 1-2
A rise in ammonia as nitrosomonas bacteria colonize to break it down. Water may become cloudy during this process.
Weeks 3-4
A reduction in ammonia levels as the nitrites rise; colonization of nitrobacter bacteria will gradually reduce and convert to nitrate.
Scheduled Maintenance
Change carbon cartridges and Discard-A-Stones every 2-3 weeks.
Perform a 25% water change once a month using a gravel vacuum cleaner to remove excess debris that may settle in the gravel bed. Be sure to replace water you've removed with dechlorinated water.
Do not remove the gravel or the undergravel filter plates during scheduled maintenance, since doing so can disturb the beneficial bacteria living on the surfaces. If excess debris accumulates, perform more frequent partial water changes using a gravel vacuum cleaner.
Customer Testimonials
No testimonials have been submitted for this product.