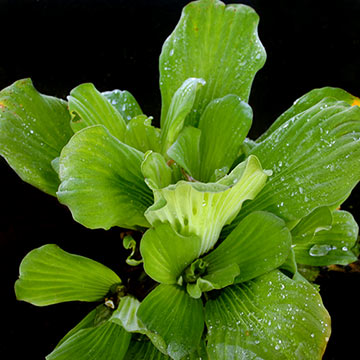 Due to variations within species, your item may not look identical to the image provided.
Water Lettuce
(Pistia stratiotes)
Additional locals and sizes may be available!
Product Notes:
·
We cannot ship this product to Alabama, California, Connecticut, Florida, Louisiana, South Carolina, Texas or Wisconsin.


Pond Plant Selection Guide
Let us help you! Use our helpful chart to choose your pond plants.
Pond Plant Zone Map
What pond plants will survive where you live? Use our helpful Zone Map to choose wisely.
Overview
Water Lettuce has velvety foliage that spreads like strawberry plants across the surface; they may produce inconspicuous white flowers. The bright green leaves are deeply veined and resemble heads of floating lettuce; they grow to lengths of up to 10 inches and up to 4 inches wide.
Water Lettuce helps to provide shade for the pond and fish, as well as a safe haven and spawning area for the fish. They help oxygenate and clarify the water and will use the extra organic nutrients in the pond, thereby reducing algae production.
Water Lettuce seems to prefer some shade in warmer climates, but is also susceptible to frost, and even a brief exposure to frigid temperatures produces scalded leaves that quickly turn to rotting areas. Zones 9-11.
Approximate Purchase Size: 6" to 8"
Customer Testimonials
Wendy B
Pearland , TX
Water Lettuce is perfect for turtle ponds, as its clumping characteristic makes great hiding and floating spots for smaller turtles. My adult sliders and cooters love to snack on the water lettuce, so be sure to buy more than you think you'll need. This plant reproduces quickly and neatly and makes a great natural filter.
Aureliano G
Albany , CA
this is a good plant