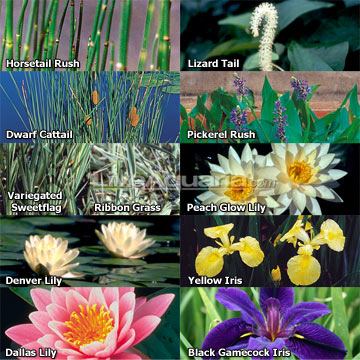 Due to variations within species, your item may not look identical to the image provided.
8ft x 10ft Hardy with Sun Pack
(Miscellaneous species)
Additional locales and sizes may be available!
Product Notes:
·
We cannot ship this product to Connecticut, Louisiana, Massachusetts, Maine, New Hampshire, New York, Oklahoma, Vermont, Washington or Wisconsin.


Pond Plant Selection Guide
Let us help you! Use our helpful chart to choose your pond plants.
Pond Plant Zone Map
What pond plants will survive where you live? Use our helpful Zone Map to choose wisely.
Overview
Ideal for mid to large ponds, each
8ft x 10ft Variety Plant Pack
includes 9 to 11 plant varieties selected for their coloration, diversity, and hardiness. Packs are grouped by zone and recommended exposure areas around your water garden. All plants arrive bare root.
The 8ft x 10ft Hardy with Sun Pack includes 11 plant varieties suited to more than 8 hrs sun/day in zones 5-11.
Package Contents
Quantity
 
Package Contents
Quantity
Dallas Lily

1

 
Yellow Iris

1

Denver Lily

1

 
Black Gamecock Iris

1

Peach Glow Lily

1

 
Variegated Sweetflag

1

Horsetail Rush

1

 
Ribbon Grass,
Strawberries & Cream*

1

Lizard Tail

1

 
Pickerel Rush*

1

Dwarf Cattail

1

 
* Indicates plant is restricted in at least 1 state.
Customer Testimonials
No testimonials have been submitted for this product.
Supplies You May Be Interested In