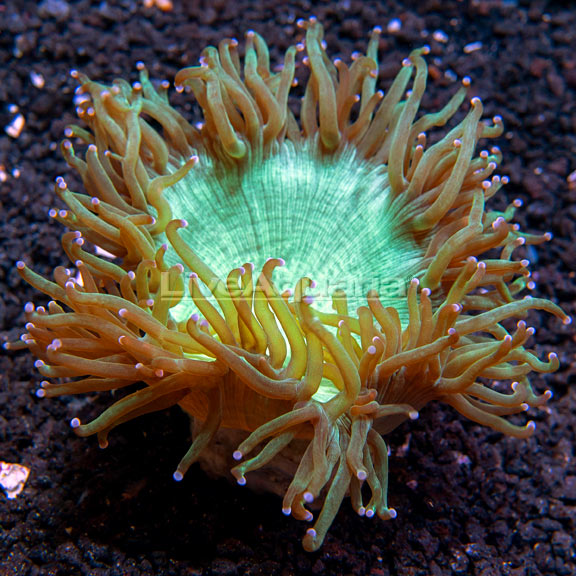 Please Note: Due to variations within species, your item may not look identical to the image provided. Approximate size range may also vary between individual specimen.
Overview
The
Catalaphyllia
Elegance Coral is a large polyp stony (LPS) often referred to as Elegant Coral, Wonder Coral, or Ridge Coral. It is truly the most unique and interesting stony coral known. Its polyps are extended during the day showing off its vast array of color-tipped tentacles. Under actinic lighting, the fluorescent qualities are beautiful with lime green, blue, orange, or purple-tipped tentacles which vary between branched or round and bulbous shapes. The most common color variety available to aquarists is gold with pink or purple-tipped polyps.
The Catalaphyllia Elegance Coral is moderate to maintain in the reef aquarium and makes an excellent choice for the beginner to expert hobbyist. Provide ample space in the aquarium between it and other neighboring corals as it will expand to twice its usual size during the day and will sting other corals in close proximity to it. It is best to place the skeleton of the coral into a soft substrate. The soft substrate is less likely to irritate the fleshy underside of the coral when compared to the rockwork. Clownfish may accept this coral as its host if no anemone is present. Use caution when handling, as it is very fragile and can also sting its handler.
Ideal reef aquarium conditions for the Elegance Coral should include moderate lighting with moderate water movement. For continued good health, it will also require the addition of calcium, strontium, and other trace elements to the water.
It will benefit from additional food fed daily in the form of micro-plankton or brine shrimp.
Approximate Purchase Size: Small: 1"" to 2"; Small/Medium: 2" to 2-1/2"; Medium: 2-1/2" to 3-1/2"; Medium/Large: 3-1/2" to 4-1/2"; Large: 4-1/2" to 5-1/4"; Extra large: 5-1/2" to 7"; Aquacultured Medium: 1-1/4" to 2-1/2"
Supplies You May Be Interested In
Customer Testimonials
Candy V.
Washburn , WI
I am so impressed with the Elegance Coral that I purchased from Foster & Smith. This is the most beautiful coral I've ever seen! It is gorgeous under any lights, but it's true beauty is brought out well by the Actinic fixture I also bought from Drs. Foster & Smith.
Sue S
Penfield , NY
I have purchased my first Elegance Coral, and I am hooked. These corals are EXTREAMLY beautiful under Actinic lights; they glow in the dark. It's one of the most beautiful picks I have in my tank. I'm buying my next one now!
Charlotte R
Murfreesboro , TN
I can not put into words the BEAUTY OF THIS CORAL!It is really large you can see it from across the room when it is open.It will take 2 days to open once you put into your tank.atfirst I had mine touching the glass alittle & it would not open.as soon as I moved it within 20 mins it was open.It is the best looking coral I have ever seen & I have seen alot.Please buy this coral you want be sorry.
Tracey K
Liberty Township , OH
I purchased an aquacultured Elegance coral in a medium size. The one I received is huge. It is a lot bigger than the size stated. It is really beautiful. I'm really impressed with the specimen I received.
Jazeel Parris
Roselle , NJ
very very beautiful coral the colors are amazing. i have been using live aquaria for years and will continue. amazing prices and the best customer service