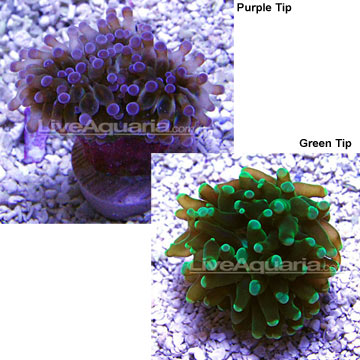 Due to variations within species, your item may not look identical to the image provided.
Overview
Be one of the first in your reef club to bring home
Euphyllia cristata
! With its tightly-clustered appearance and magnificent coloration, the Grape Coral makes a perfect addition to your reef aquarium. Similar to Frogspawn coral (
Euphyllia paradivisa
),
Euphyllia cristata
features distinctively tighter polyp groupings which remain visible throughout both the day and night, resembling a bunch of green grapes.
During the evenings, its sweeper tentacles can extend up to six inches beyond its base into the reef aquarium surroundings. It will sting other neighboring corals in the reef aquarium; therefore, it is best to leave plenty of room between itself and other types of corals. It will need to have moderate to high lighting combined with medium water movement within the aquarium. For continued good health, it will also require the addition of calcium, strontium, and other trace elements to the water.
The symbiotic algae zooxanthellae hosted within its body provide the majority of its nutritional requirements from photosynthesis. It will also benefit from additional food in the form of micro-plankton or brine shrimp.
Approximate Purchase Size: 1" to 2"
Customer Testimonials
No testimonials have been submitted for this product.
Supplies You May Be Interested In