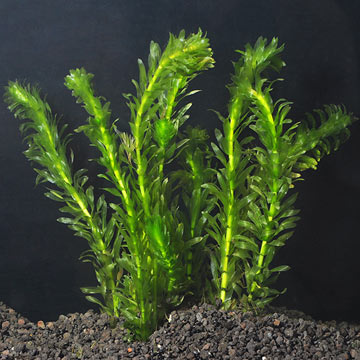 Please Note: Due to variations within species, your item may not look identical to the image provided. Approximate size range may also vary between individual specimen.
Overview
The Anacharis, also known as the Brazilian Waterweed, is an ideal aquatic plant for beginners. Beautiful light to bright green leaves, with branching stems covered in bunches of linear, whorled leaves. The Anacharis anchors itself in the substrate by its roots, but will also grow when floating freely.
The Anacharis can be housed in tropical or coldwater aquariums. When kept in a tropical aquarium, they require regular additions of fertilizer and a moderate amount of light. With the addition of CO2 fertilization, they will thrive in even hard water. The Anacharis is an excellent nutrient controller and oxygen producer for all types of freshwater aquariums and is also a suitable plant for use in aquariums that house livebearers or American sunfish.
Provide at least 2 watts per gallon of light provided by full spectrum (5000-7000K) bulbs, and keep the aquarium water between 59°-82°F. Anacharis plants grow the best in water with an alkalinity of 3-8 dKH with a nuetral pH of 6.5-7.5. Propagate by removing cuttings from mature, healthy plants. The Anacharis looks best when planted in groups along the back and sides of the aquarium.
Approximate Shipping Size: 6" to 8"
Supplies You May Be Interested In
Customer Testimonials
Cheryl S
Cedar Falls , IA
Anacharis makes a great Goldfish vacation food. My fish nibble at them all the time and it's a way to make sure they get enough food when I'm gone for a few days.
Christie T
L , CA
The Anacharis is an easy-to-keep plant that grows well in most conditions. I have had some in my turtle tank for years and they can take being uprooted whenever the turtles feel like redecorating. The Anacharis grows until it is long enough to float at the surface of the water and provides good hiding places for fish while looking beautiful. My turtles even like to rest on its floating stems. I highly recommend it.
Ross J
Houston , TX
I love the Anacharis. It's hardy, easy to transplant and you have an endless supply as it grows fast and then when clipping the tops, you can sprout new plants. The plant is also great nibbling food. My Dwarf Gourami's nibble on them for a snack...keeping them trimmed. I highly recommend this plant for beginners!
Matthew S
College Station , TX
Fast growing, very hardy plant. Gets tall and branches a lot, good background plant.
Anonymous
i love this plant. i have it with my 5 feeder fish (minnows)
Aureliano G
Albany , CA
Very nice plant I enjoy it a lot! Good for all fish tanks.
Mark A
Asheboro , NC
I have these in 4 of my aquariums. I have only bought one bunch of these. They grow fast and also some of my fish love to snack on them. I have trimmed and transplanted them in my planted tanks. Also have had ample to share with friends. They are so easy to care for.
Sarah B
Overton , NV
I love these things! I bought a few for my Angelfish tank and they loved them. Anacharis is fast-growing, hardy, and easy for beginners. Make sure they have a lot of light, though, as their best colors require lots of light. I would definately recommend this species.