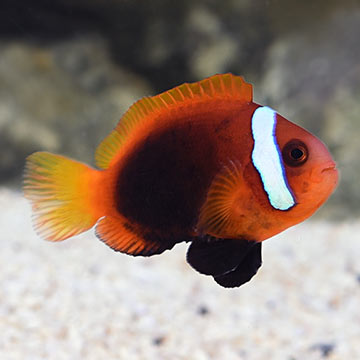 Please Note: Due to variations within species, your item may not look identical to the image provided. Approximate size range may also vary between individual specimen.
Overview
The Captive-Bred Cinnamon Clownfish, also known as the Black Anemonefish, or Red and Black Anemonefish, has a reddish-brown base color with a white stripe behind the eyes, and a dark area, which may vary in dimension, on the side. Orange dominates the dorsal, caudal, and pectoral fins, as well as the face.
Captive-Bred clownfish are very hardy and durable fish making them a perfect addition for the novice or seasoned aquarist. The Cinnamon Clownfish is a good candidate for a reef aquarium. If introduced to the aquarium at the same time, many varieties of tank raised clowns can be maintained together in the aquarium. Cinnamon Clownfish are very sensitive to elevated levels of copper, and should never be exposed to levels near or above .15.
Captive-Bred clownfish are easy to breed in the home aquarium. The females will be the largest of the pair, and two fish will usually stay close to each other in the aquarium. These fish are egg layers and will deposit the eggs on a flat surface, and defend the eggs from other tank mates. The eggs will normally hatch in 6-11 days depending on the temperature. The fry must be reared in a separate aquarium on a diet of rotifers then baby brine shrimp.
The Cinnamon Clownfish diet consists of meaty items as well as herbivore preparations.
Approximate Purchase Size: Small: 1" to 2" Medium: 2" to 3"
Supplies You May Be Interested In
Customer Testimonials
Dan Spencer
Prescott , AZ
My Cinnamon Clownfish is the best fish I've had to date. It's beautiful and hardy.
Ben Schaefer
Colorado Springs , CO
I bought two of these little guys about a month ago and they were perfect additions to my 20 gallon tank. They are very hardy and love the two Condy anemones I got for them as well.