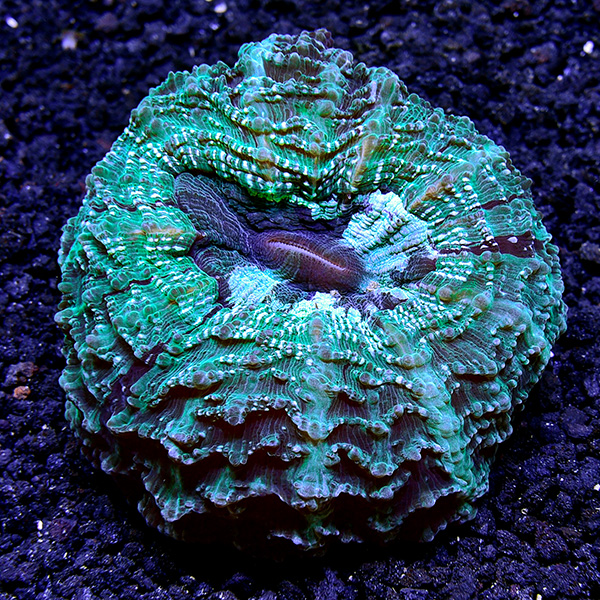 Due to variations within species, your item may not look identical to the image provided.
Overview
The Doughnut Coral is a large polyp stony (LPS) coral also referred to as the Cat's Eye, Tooth, Button, Teary Eye, or Meat Coral. The Doughnut Coral is a round solitary coral (one of the largest single-polyped corals found in nature today) available in many different color forms from pastel to bright and translucent to more subtle variations.
While the Doughnut Coral is not an aggressive coral, it should be provided with adequate space between itself and other corals because it can expand to twice its size. It is easy to maintain in an established reef aquarium and makes an excellent choice for both beginner and advanced reef aquarist. The Doughnut Coral requires medium lighting achieved with T-5s, powerful LEDs or the more intense metal halides, combined with low water movement. For continued good health, the Doughnut Coral will also require the addition of calcium, strontium, and other trace elements to the water.
The symbiotic algae zooxanthellae hosted within the Doughnut Coral satisfies the majority of its nutritional requirements from the light driven process of photosynthesis. The Doughnut Coral also feeds on other nutrients and particulate matter and benefits from the occasional addition of meaty foods such as micro-plankton or brine shrimp at night when its feeding tentacles appear.
Approximate Purchase Size: Small: 1-1/2" to 2-1/4"; Medium: 2-1/2" to 3-1/2"; Large: 4" to 5-1/4"
Customer Testimonials
No testimonials have been submitted for this product.