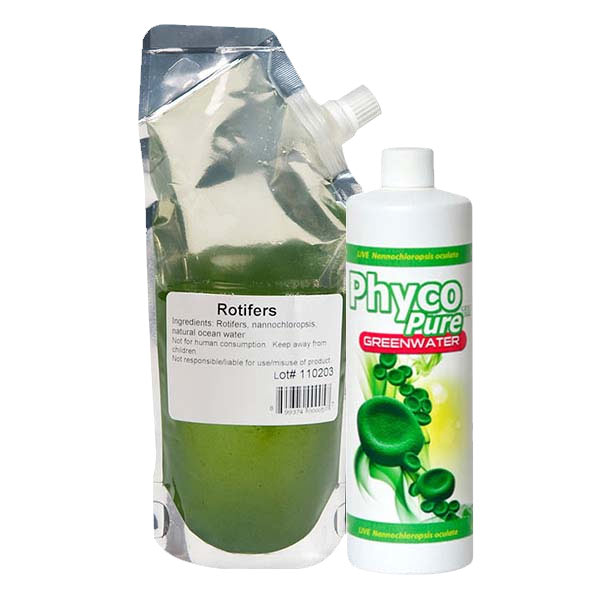 Please Note: Due to variations within species, your item may not look identical to the image provided. Approximate size range may also vary between individual specimen.
Overview
Cultivate live Rotifers with greater convenience and savings. The AlgaGen Rotifer Grow Kit makes it easier than ever for hobbyists to cultivate live rotifer populations for baby fish and larvae, like young Clownfish. AlgaGen Rotifer Grow Kit includes one 8 oz bottle of Rotifers and one 8 oz bottle of PhycoPure™ Greenwater at one terrific package price.
Rotifers are essential for baby fish and larvae and play a significant role in the food chain. Establishing active Rotifers populations at home for raising fish larvae and fry is the final key to ultimate fish breeding success, and now it's easier than ever. Use AlgaGen PhycoPure™ Greenwater to establish your rotifer population.
AlgaGen PhycoPure™ Greenwater contains live Nannochloropsis oculate microalgae in treated natural ocean water. For best results, add 1-2 capfuls per 10 gallons directly to the reef tank or refugium. Rotifers will consume these microalgae quickly and will turn the water clear. Over- or underfeeding can affect the growth of the rotifers, so strive to maintain a very light tint to the water by feeding smaller doses more often. Keep refrigerated.
AlgaGen Rotifers contains live Brachionus plicatilis rotifers in treated natural ocean water. This species of rotifers are approximately 150 to 300 microns in size (105 to 160 microns in width). Making them an excellent hatchery food for many species of larval fish.
AlgaGen Rotifer Grow Kit is guaranteed to arrive alive but is exempt from our extended guarantee after their arrival.
Customer Testimonials
No testimonials have been submitted for this product.