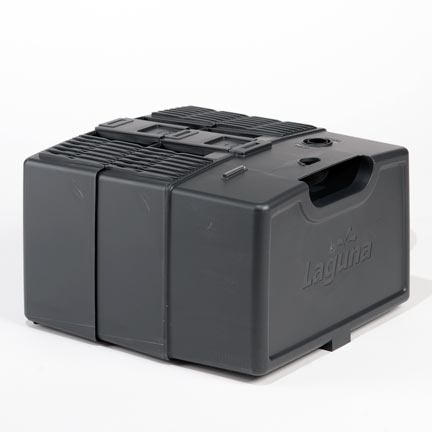 Overview
| | |
| --- | --- |
| * | 3-in-1 internal pond filter smartly designed for versatile installation |
| * | Delivers powerful water movement, filtration and UV clarification |
| * | Simple to install and maintain filter for hassle-free pond keeping |
High performance internal pond filter multitasks to simplify the creation of striking water features with clean, clear water. Laguna PowerClear Multi All In One Pond Filter boasts a smart enhanced design to deliver powerful flow rates, superior filtration and algae-busting UV clarification. Fountainhead and telescopic riser stem with dual control diverter valves allow easy setup of a beautiful fountain display and waterfall feature in your pond.
Laguna PowerClear Multi All In One Pond Filter provides superior biological and mechanical filtration enhanced by UV clarification. Revolutionary Bio-Brick media provide ideal habitat for beneficial bacteria that breakdown toxic ammonia and nitrite. Large mechanical filter foam pad with unique "egg crate" design traps more debris while requiring less cleaning and maintenance. 13W UV features spiral chamber design to effectively clear unsightly green water algae.
Features:
Two fountain head options: Water Bell and Multi-Tier
Powerful magnetic driven pump for maximum flow and versatility
Compact, Powerful 13W UV - Eliminates Green Water Guaranteed
High performance filtration media
Anti-Clog leaf guard housing protects impeller and assure continuous suction
Weight balanced design provides maximum stability
Dual control diverter valves for independent waterfall and fountain flow control
Telescopic riser stem with vertical and horizontal pivoting for easy leveling
UV light indicator
Smart electronic pump
3 year guarantee
Specifications
PowerClear Multi
For Ponds Up to
Flow Rate
Max Head
Pump Wattage
Dimensions
Model 1000
(Mfg# PT1817)

1,000 gallons

580 gph

6 ft

18

7-1/2" x 11-1/2" x 13" high

Model 1500
(Mfg# PT1818)

1,500 gallons

740 gph

8 ft

32

7-1/2" x 11-1/2" x 14-1/2" high
Detailed Product Benefits
Biological filtration achieved through revolutionary Bio-Brick media. This biological media is made of LECA or Light Expanded Clay Aggregate, an all-natural kiln-fired clay-based material with thousands of small air-filled cavities perfect for growing beneficial bacteria.
Mechanical filtration provided by durable convoluted foam pads. This rigid foam pad provides a greater surface area due to the convoluted or "egg crate" design, requiring less cleaning and maintenance.
Ultraviolet sterilization and clarification is provided by the integrated 13W UVC chamber. Water is forced through a spiral chamber before exiting through the fountainhead or diverted to a water feature.
Built on a modular platform, the filtration chamber can be expanded to include additional Foam or Bio-Brick Media.
General Information
The PowerClear Multi All in One filter is a complete pond solution. It combines the following functions in a one single product:
Mechanical filtration provides crystal clear water by removing solids
Biological filtration, provided by a specific Bio-Brick composition, creates the ideal environment for growing beneficial bacteria, ensures healthy water safe for fishes
Ultraviolet sterilizer prevents and/or eliminates green water guaranteed, killing free floating algae
Powerful efficient pump enhances both beautiful waterfall and fountain features with 2 different attachments
The innovative Powerclear Multi Filter is designed and engineered for efficient reliable filtration, high pump performance and ease of use. Install one at the bottom of the pond and you will able to immediately appreciate your new water feature.
Customer Testimonials
No testimonials have been submitted for this product.