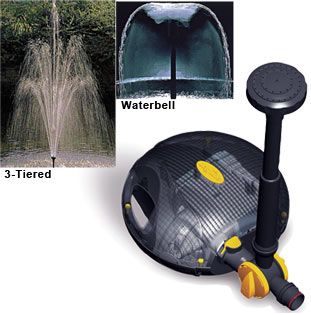 Overview
| | |
| --- | --- |
| * | Versatile 2-in-1 fountain pond pump uses less energy to operate |
| * | Run a beautiful water fountain & a waterfall with the same pump |
| * | Super efficient performance on select models featuring smart pump technology |
New generation Smart Pump Technology boosts energy-efficient performance of these 2-in-1 fountain pond pumps. Laguna Powerjet Fountain & Waterfall Pumps improved with significant technological and design innovations do more with less energy. Innovative pumps use less electricity than the prior models but maintain powerful output for reliable, continuous operation. Laguna Powerjet Fountain & Waterfall Pumps 1350 and higher are fitted with an internal, self-regulating system to track power consumption, hydraulics and impeller direction so only the required amount of power is used during operation.
Laguna Powerjet Fountain & Waterfall Pumps save you time and money by eliminating the need for separate water pumps. Use these powerful energy-efficient pumps as a dedicated water fountain pump or to run multiple water features. Power any water-driven device or decoration or even create a waterfall or watercourse while operating the fountain. Features high-quality ceramic shaft, easy-connect cut-to-fit "Click-fit" connectors, and strainer cage to ensure long-lasting reliable use. Two adjustable valves allow independent control of water flow.
Includes: Two interchangeable fountainheads (Waterbell and 3-Tiered fountain design).
Model
Max
gph
Max
head
Fittings
Watts
Cord
Length
Recommended
Pond Size
960
(PT8204)

960

6 ft 6"

3/4", 1",
1-1/4"

57

16 ft

1,960 gallons

1350
(PT8208)

1,500

11 ft 5"

3/4", 1",
1-1/4"

75

16 ft

2,700 gallons

2000
(PT8212)

2,000

11 ft 5"

3/4", 1",
1-1/4"

80

16 ft

4,000 gallons
Pump Installation Instructions
Note: Always unplug or disconnect all appliances in the pond from the electrical supply before installing, repairing, maintaining, or handling the equipment in the water.
Caution: To prevent constant clogging of the strainer, install the pump on an elevated surface so that the pump intake is clear of waste, debris, and mud at the bottom of the pond.
To Install Laguna Powerjet Fountain & Waterfall Pump
Install the pump on an elevated, secure, flat, and level surface. The pump base can be removed and secured to a raised fixed base. A brick, for example, would provide a firm platform and may help elevate the pump from the pond bed.
Pump Strainer
The pump strainer is NOT a pond filter. The purpose of the pond strainer is to prevent debris from entering the impeller.
Caution: Never operate the pump without the strainer material installed in the pump strainer housing. Failure to use the strainer material will cause the pump to clog with waste and debris, severely restricting the pump's output as well as the fountainheads.
If the pump strainer supplied with the pump is not adequate for your requirements, a pre-filter such as the Laguna PowerFlo Underwater Filter should be fitted.
To clean the pump strainer housing & strainer material:
Remove pump strainer housing & strainer material from the pump and rinse in clean water.
Important:
Always use the largest diameter hose possible.
Avoid sharp bends in the hose. Gentle curves are preferred.
Maintenance
Fountain Jets
Remove the jet head from Riser Pipe. Rinse parts in clean water and reassemble.
Impeller
Caution: The pump motor includes a high-quality ceramic shaft (impeller) that provides long-lasting reliable performance when properly maintained. However, extreme care should be taken when handling the shaft during maintenance. Avoid dropping or pressing too hard on it to avoid breakage or hairline fractures, which may cause the shaft to snap while in operation.
To clean the impeller and impeller housing:
Remove the strainer housing and strainer.
Remove the impeller cover.
Remove the impeller.
Clean all components in clean water. Do NOT use detergents or other chemical cleaners.
Reassemble impeller assembly and replace strainer assembly.
Pump Care
To avoid shortening the life of your Laguna Powerjet Fountain & Waterfall Pump, please follow this procedure. Maintenance is simple to carry out and essential.
Once a Week - Remove and clean strainer, depending on pond condition.
Once a Month - Remove and clean impeller assembly checking for buildup of lime scale, which can seriously affect pump performance. Impeller well should also be checked.
To keep your pump in good working order, always replace any worn parts.
Troubleshooting
Low Flow from Pump:
Check to see if strainer is clean.
Check hose for any blockage.
Poor Fountain Display:
Clean fountain jet.
No Flow From Pump:
Check if power supply is on.
Disconnect the pump, remove impeller assembly and clean. Then reconnect the pump.
Winterizing the Pump
Unplug and remove the pump from the pond.
Gently scrub off any dirt and debris with a soft nylon brush.
Open the cage by unlocking the pivot pin fasteners and remove the pump.
Thoroughly clean the pump and cage as per instructions.
In addition, soak the impeller shaft and impeller well in white vinegar for 24 hours and then rinse off with water. This procedure will remove calcium and other mineral deposits from the impeller shaft. If these deposits are not removed, they may cause the shaft to bind and break when the pump is started again.
Lubricate all seals with Laguna Silicone Lube (sold separately).
Store indoors for best results. Do not store the pump in below freezing temperatures.
When re-opening your water feature in the spring, submerge the pump in the pond for 1 hour prior to starting the pump.
Customer Testimonials
No testimonials have been submitted for this product.