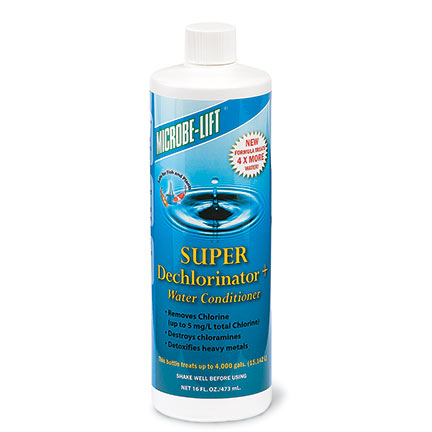 Overview
| | |
| --- | --- |
| * | Highly concentrated, multipurpose conditioner for koi ponds |
| * | Fast-acting conditioner makes tap water safe for pond use |
| * | Added slime coat replacer, electrolytes and alkalinity booster keep pond inhabitants healthy |
Give your pond fish the ultimate in healthy pond water. Highly concentrated water conditioner instantly dechlorinates and detoxifies tap water while conditioning pond water. Microbe-Lift Dechlorinator + Pond Conditioner removes up to 4 mg/liter total chlorine, destroys chloramines, detoxifies heavy metals PLUS replaces slime coat, boosts alkalinity level, and adds essential electrolytes.
Unlike some other dechlorinators, Microbe-Lift Dechlorinator + Pond Conditioner breaks the chloramine bond and effectively detoxifies copper and other heavy metals without scavenging oxygen. Multipurpose conditioner contains two ingredients to help replace your fishes' protective slime coat plus electrolytes to help reduce stress in your pond fish. Use Microbe-Lift Dechlorinator + Pond Conditioner when making partial water changes, or when replacing evaporated water. For conditioning water for ponds where ammonia and chloramines are not a consideration. 1 oz treats up to 1000 gallons. 1 gallon treats up to 128,000 gallons.
Directions:
Shake well before using.
To condition water for new ponds, before, after or during water additions, or before adding new fish, amphibians, invertebrates or plants, add 1 teaspoonful (5 ml) of Microbe-Lift Dechlorinator + Water Conditioner per 10 gallons (38 liters) of water.
Add to transport bags at the same dosage.
For larger applications, use the following measurements: 1 fl. oz. (30 ml) per 60 gallons (225 liters).
Pond water conditioners
Pond water conditioners play an important role in supporting a healthy aquatic environment. Water conditioners help maintain good water quality and proper water parameters so koi and other pond fish can thrive.
Dechlorinators or Chlorine Removers
If you rely on municipal water treated with chlorine, it is crucial to use a dechlorinator or chlorine remover. Though chlorine provides safe drinking water for humans, it is harmful to your fish's gills. Chlorine can harm fish as well as disrupt the sensitive environment created within your water feature. Similarly, metals such as copper and zinc are essential to the overall health of your pond or water garden, but higher unnatural levels of these and other metals are toxic. Dechlorinators remove chlorine and other harmful chemicals to make tap water safe for pond use.
Customer Testimonials
No testimonials have been submitted for this product.