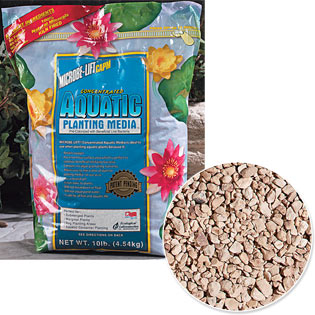 Overview
| | |
| --- | --- |
| * | Natural montmorillonite potting media with beneficial bacteria for lush plant growth |
| * | Neutral pH planting media contains no fertilizers or compost that can pollute your pond |
| * | Use straight from the bag or mix with other aquatic plant media |
Kiln-fired, 100% natural montmorillonite clay perfect for container plants, marginal plants, bog areas, and wildlife ponds. Neutral pH pebbles retain oxygen, contain beneficial live bacteria, and contain no algae-promoting nutrients, fertilizer, compost, peat or pesticides. Helps absorb excess alkalinity or acid in your pond water - won't break apart or float.
Microbe-Lift Planting Concentrated Aquatic Planting Media is ready to use straight from the bag, or mix. Mix as little as 25% of the media with the planting soil of your choice. Heavy garden loam is a commonly recommended aquatic planting soil. This mix is laced with essential microbes that can allow aquatic plants easy nutrient uptake, which is essential for good plant growth. This media provides a way to top off container plants, so your soil mix doesn't disperse when you lower the containers into position in the pond.
In bog planted areas, this media helps reduce transplant shock and will help the plants better utilize light, water, and nutrients. Keep the bog moist, but not waterlogged.
Customer Testimonials
No testimonials have been submitted for this product.