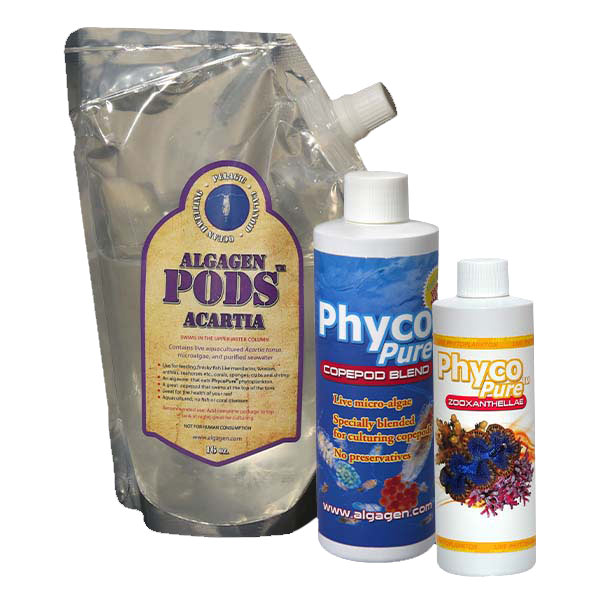 Please Note: Due to variations within species, your item may not look identical to the image provided. Approximate size range may also vary between individual specimen.
Overview
Keep corals happily fed and stress free with this live phyto- and zooplankton combo! AlgaGen Happy Coral Kit offers greater convenience and savings packaging together three popular live plankton products designed to help keep corals properly fed and better recover from stress events. AlgaGen Happy Coral Kit includes one 8 oz bottle of PhycoPure™ Copepod Blend, one 8 oz bottle of ReefPods™ Acartia, and one 4 oz bottle of PhycoPure™ Zooxanthellae at one terrific package price.
AlgaGen PhycoPure™ Zooxanthellae is a blend of LIVE zooxanthellae assembled for use as an aid for marine reef aquarium corals and clams. Aquarists have reported great results ranging from coral recovery from stress events to enhanced overall coral and clam coloration. For best results, routinely spot feed 2-3 times per week or broadcast feed 1-2 capfuls per 10 gallons. Whenever possible, it is best to spot feed corals and filter feeding inverts from a small syringe or baster. Keep refrigerated.
AlgaGen PhycoPure™ Copepod Blend contains T- Isochrysus galbana, and Chaetoceros gracilis to supplement the diet of marine reef aquarium filter feeders and to sustain copepod populations. For best results, add 1 cap full per 10 gallons directly to the reef tank or refugium. In a separate jar or tank where copepods are being cultured, feed 2-6 tsp (10-30ml) per gallon per day. Copepods will consume these microalgae quickly and will turn the water clear. Over- or underfeeding can affect the growth of the copepods so strive to maintain a very light tint to the water by feeding smaller doses more often. Keep refrigerated.
AlgaGen ReefPods™ Acartia zooplankton starter culture contains 100 to 200 Acartia tonsa copepods ideal for feeding both photosynthetic and non-photosynthetic corals as well as filter feeding marine invertebrates including scallops, feather duster worms, sponges, and Tridacna clams. Acartia is also very useful in ornamental aquaculture for feeding larval fish and crustaceans, seahorses, and invertebrates. Introduce and maintain AlgaGen ReefPods™ Acartia in your main aquarium, sump, refugium, or for best results, acclimate and grow Acartia in a separate culture vessel and harvest Acartia nauplii to feed the main aquarium. Adult size: 1.0 - 1.2 mm.
AlgaGen Happy Coral Kit is guaranteed to arrive alive but is exempt from our extended guarantee after their arrival.
Customer Testimonials
No testimonials have been submitted for this product.