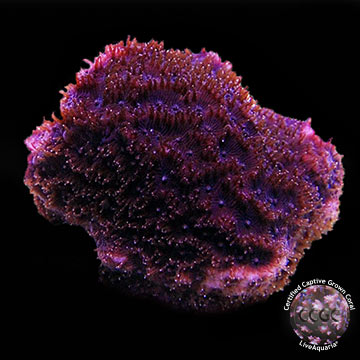 Please Note: Due to variations within species, your item may not look identical to the image provided. Approximate size range may also vary between individual specimen.
Overview
The LiveAquaria® CCGC Aquacultured Aussie Plum Coscinarea Coral is a plum deal for collectors of extraordinary coral specimens. The infrequent appearance of Genus Coscinaraea in the aquarium trade enhances the desirability of this uncanny beauty. Propagated here at our Coral Farm & Aquatic Life Facility, the Aquacultured Aussie Plum Coscinaraea Coral adds marvelous visual interest to the reef display injecting vibrant color and dynamic structure. Coral aficionados will surely relish the addition of this unique specimen.
The Coscinaraea Coral and members of the Family Siderastreidae are easily recognized by star- or flower-like corallites created as the septa fuse at the center. Even distribution of countless corallites gives the Aquacultured Aussie Plum Coscinaraea Coral a highly textural appearance that enhances the vivid purple coloration. Extended polyps give it an unusual, furry appearance sure to capture the attention of family and friends. Though typically encrusting in habit, species of Coscinaraea display a wide variety of architectural growth forms, including a columnar one, that add to the desirability of these corals.
The Plum Coscinaraea Coral is a hardy small polyp stony (SPS) coral that can live under a variety of lighting conditions provided by T-5s, powerful LEDs or the more intense metal halides. To bring out the most intense coloration of this coral, provide moderate to high lighting conditions along with moderate strong water flow.
The Coscinaraea Coral satisfies the majority of its nutritional requirements by means of photosynthetic, symbiotic zooxanthellae algae hosted within its body. It will benefit from supplemental feedings in the form of brine shrimp or zooplankton. For its continued good health, it requires the addition of calcium, magnesium, strontium, and other trace elements to the water.
The Aquacultured Aussie Plum Coscinaraea Coral is mounted on a fired ceramic plug that can be placed easily and securely in or between the rockwork in the reef aquarium.
Approximate Purchase Size: 1" to 1-1/4".

This LiveAquaria Certified Captive Grown Coral arrives with a Certificate of Authenticity & a 30-Day Arrive Alive, Stay Alive®, Risk-Free Guarantee. Learn more here >
Unlike most clip and ship coral frags, all of our Certified Captive Grown Corals are fully encrusted onto their plugs and are fully adjusted to artificial lighting and synthetic seawater, propagated and grown in our state-of-the-art facility in Rhinelander, Wisconsin.
Supplies You May Be Interested In
Customer Testimonials
No testimonials have been submitted for this product.