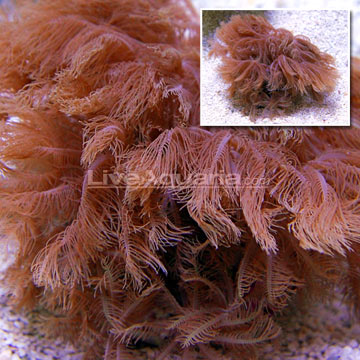 Due to variations within species, your item may not look identical to the image provided.
Overview
The Clove Polyp is also referred to as a Waving Hand or Glove Coral. It is a group of colonial animals with several individual polyps attached to a piece of solid substrate. They are tan, in color, and their polyps have the distinctive eight-leaved tentacles associated with all of the members of this family.
Predatory fish, crabs, snails, or the stings of other corals may damage the colony quite easily. Therefore, provide adequate space between them and sessile animals, especially other types of soft corals. They are difficult to maintain in an aquarium. They require a low to moderate light level combined with a medium water movement within the aquarium. For continued good health, they will also require the addition of iodine and other trace elements to the water.
Under ideal conditions, and once acclimated, they may reproduce in the established reef aquarium, forming a creeping mat, which will quickly grow over any adjacent rockwork. The symbiotic algae zooxanthellae hosted within their bodies provide the majority of their nutritional requirements through photosynthesis. Additional weekly feedings of micro-plankton or foods designed for filter feeding invertebrates are also needed.
The ORA® Clove Polyp Coral is attached to an aragonite block and can be easily placed in holes or between the rockwork of the reef aquarium.
Approximate Purchase Size: 1"-2"
Supplies You May Be Interested In
Customer Testimonials
No testimonials have been submitted for this product.