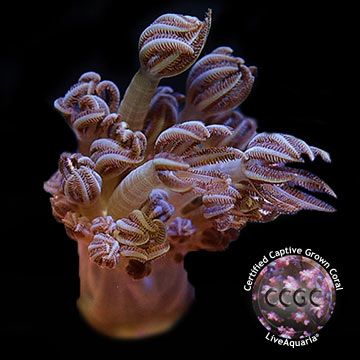 Please Note: Due to variations within species, your item may not look identical to the image provided. Approximate size range may also vary between individual specimen.
Overview
We've had such success aquaculturing
Heteroxenia
that we're pleased to offer this fascinating pulsing xeniid Heteroxenia Polyp for the first time outside of Diver's Den®! Don't miss your chance to procure and nurture this significant species in your home aquarium.
"Pulse Corals" in the family Xeniidae are colonial animals with multiple individual polyps attached to a piece of solid substrate. They form stalks as they grow, and to reproduce. The eight-tentacled polyps can pump, or pulse. Many scientists believe the pumping action of the polyps slowly opening and closing is designed to dispose of gasses and waste. However, it is still unknown why these coral do pulse, and there are many water, lighting and nutrient factors involved. It is not necessarily a sign of ill health if they do cease to pulse.
It takes a careful eye to distinguish Heteroxenia from other Xenia species, with which they share most gross physical traits. They are easiest to identify upon maturity when colonies form distinctive small secondary polyps between larger polyps called siphonozooids. In the wild, Heteroxenia are found in calmer, back-reef niches and may occur in muddy or turbid waters.
Aquacultured Heteroxenia are hardier than wild-caught species and tend to reproduce quickly. Therefore, provide adequate space between them and sessile animals, especially other types of soft corals. They require a medium to high light level combined with a medium to strong water movement within the aquarium. For continued good health, they will require the addition of iodine and other trace elements to the water.
They contain the symbiotic algae zooxanthellae from which they receive the majority of their nutritional requirements. Additional weekly feedings of micro-plankton or foods designed for filter feeding invertebrates are also needed.
The Heteroxenia Polyp is mounted on a small fired ceramic block that can be placed easily and securely in or between the rockwork in the reef aquarium.
Approximate Purchase Size: 1" to 2"

This LiveAquaria Certified Captive Grown Coral arrives with a Certificate of Authenticity & a 30-Day Arrive Alive, Stay Alive®, Risk-Free Guarantee. Learn more here >
Unlike most clip and ship coral frags, all of our Certified Captive Grown Corals are fully encrusted onto their plugs and are fully adjusted to artificial lighting and synthetic seawater, propagated and grown in our state-of-the-art facility in Rhinelander, Wisconsin.
Supplies You May Be Interested In
Customer Testimonials
No testimonials have been submitted for this product.